Dive Safety Officer and Dive Technician
Jane's career began as an IT trainer at News International in London. However, after discovering a passion for the ocean in 1991 she also discovered a love of travel. Jane worked as an Expedition Leader for Coral Cay Conservation in the Philippines and Borneo in the late 90's and on returning home completed her PADI Instructor qualification. In 2001 Jane began taking photos underwater and following some early success in international competitions she began to write for the Dive Press. After a stint of working in the dive travel industry Jane moved into a permanent position at DIVE magazine where her photo journalism work flourished and she also organised the British Underwater Image Festival.
In 2009 Jane started work as a freelance photo journalist, contributing to many magazines, books and the national press. Jane also completed her HSE Part IV commercial dive qualification and a degree in Marine and Natural History Photography at Falmouth University. 
Jane has won a number of prestigious underwater photography competitions including the Plongeur D'Or (Gold medal) at the Festival Mondial de l'Image Sous Marine, Antibes, the BSOUP (British Society of Underwater Photographers) Underwater Excellence competition, plus been highly commended for the past two years in British Wildlife Photographer of the Year. 
Jane began working as a technician at Falmouth University in 2013 and is now in a full time roll as the Dive Safety Officer (2 days per week) and  Dive Technician (3 days per week) where she can share her love of the underwater world.
Jane is a regular contributor to SCUBA magazine and runs Wildlife Photography Courses with Monty Halls at Great Escapes in Dartmouth. Jane also runs escorted underwater photography trips with Dive Worldwide and is a regular speaker at the British dive shows.
External Links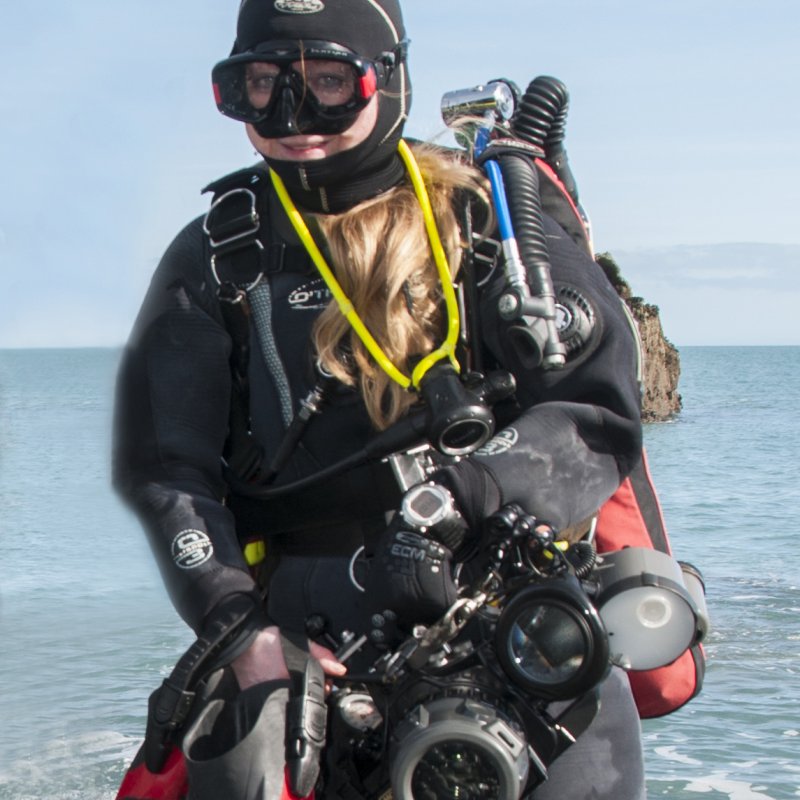 Contact details
Qualifications
| Year | Qualification | Awarding body |
| --- | --- | --- |
| 2014 | BA (Hons) Marine and Natural History Photography | Falmouth University |
Honors and awards
| Year | Description |
| --- | --- |
| 2017 | Highly Commended - BWPA (British Wildlife Photography Awards) |
| 2016 | Highly Commended - BWPA (British Wildlife Photography Awards) |
| 2014 | Highly Commended BWPA (British Wildlife Photography Awards) |
| 2014 | Winner Green Water Advanced, Photosub Annual competition. |
| 2013 | Highly Commended BWPA (British Wildlife Photography Awards) |
| 2011 | Highly Commended BWPA (British Wildlife Photography Awards) |
| 2011 | Winner - British Society of Underwater Photographers, Underwater Excellence |
| 2010 | Editors Choice - BWPA (British Wildlife Photography Awards) |
| 2007 | Winner - Photosub Open Digital competition |
| 2006 | Winner Plongeur D'Or (Gold medal) - Festival Mondial de l'Image Sous Marine, Antibes |
| 2006 | Winner - British Society of Underwater Photographers, Focus On Final |
| 2006 | Winner - Photosub Splash In competition |
| 2005 | Winner - British Society of Underwater Photographers, Open Portfolio |
| 2005 | Winner - Sport Diver Photographer of the Year (PADI Pros) |
| 2005 | Winner - Winner Blue Water Advanced, Photosub Annual competition. |
| 2004 | Winner - British Society of Underwater Photographers, Theme Portfolio |
| 2004 | Winner - Photosub Splash In competition |
| 2002 | Winner - British Society of Underwater Photographers, Beginners Portfolio |
Membership of external committees
British Society of Underwater Photographers
Areas of teaching
Courses taught
BA (Hons) Marine & Natural History Photography