Senior Lecturer, Theatre and Acting
Misri is a theatre practitioner and director, working across contemporary theatre and performance. Her training reflects this, having trained at the Bristol Old Vic Theatre School (1998) and at the Amsterdam School for New Dance Development (1993), as well as on the job. Industry experience includes touring of devised solo and group performance working nationally and internationally with companies like Travelling Light Theatre, Lusty Juventus, Singeltheater (Netherlands) and her own solo performance and radio works (Exeter Phoenix, Theatre Museum, London, British Empire and Commonwealth Museum, BBC Radio Bristol and BBC Sangaam). She has also performed in numerous classical works at The Gate Theatre, London, Bristol Old Vic Theatre, Oxford Playhouse and the London Coliseum amongst others. Alongside this, she worked freelance as a director and researcher for companies and individuals that include amongst others Augusto Boal (Brazil), Baz Kershaw (UK), Tariq Ali (UK), Marina Warner (UK), MusicWorks (UK), Clean Break Theatre (UK), Singel Theatre (Netherlands), Slederloj Youth Theatre (Belgium), Bibi Miller (USA). 
Her most current performance research involves two strands. The first is making and writing about solo contemporary performance, revolving around issues of diasporic mixed ethnicity and cultural identity. She was awarded a PhD in 2015, titled  Solo Devised Performance: A Practitioner's Enquiry, and has subsequently published several journal articles. Her book, 'Making Solo Performance' will be published in June 2018 with Palgrave Macmillan. She also founded and co-ordinates the Solo Contemporary Performance Forum, started at Dartington College of Arts in 2004 and which now works out of Falmouth and Bristol and supports and develops new solo performance work through laboratories, residencies, performance events and website platforms. Its partners include Trinity Arts Centre, The Bristol Old Vic Theatre, Residence, Bristol City Council and Falmouth University. In 2021 she was awarded Arts Council England funding to create a new theatre company, MisriDey Theatre, and a new comic solo, Family Tree, exploring diasporic family experiences, and stupid borders. A second and related research strand is Research England funded  work into Global Majority staff presence and embodiment in UK Higher Education creative departments, with a podcast series 'They just don't apply' due in Autumn 2022.
She teaches across undergraduate and postgraduate Acting and Theatre degrees, directing productions, solo performances, taught MA programmes and examining  stage three theses and three PhD's.  from The University of Sydney (2018). She worked as an external examiner for four years with E15/ University of Essex, on their BA Hons. Community Theatre and Theatre Practices and is currently External Examiner at Liverpool Institute of the Performing Arts, on their Foundation and M.A Acting ( Companies).
External Links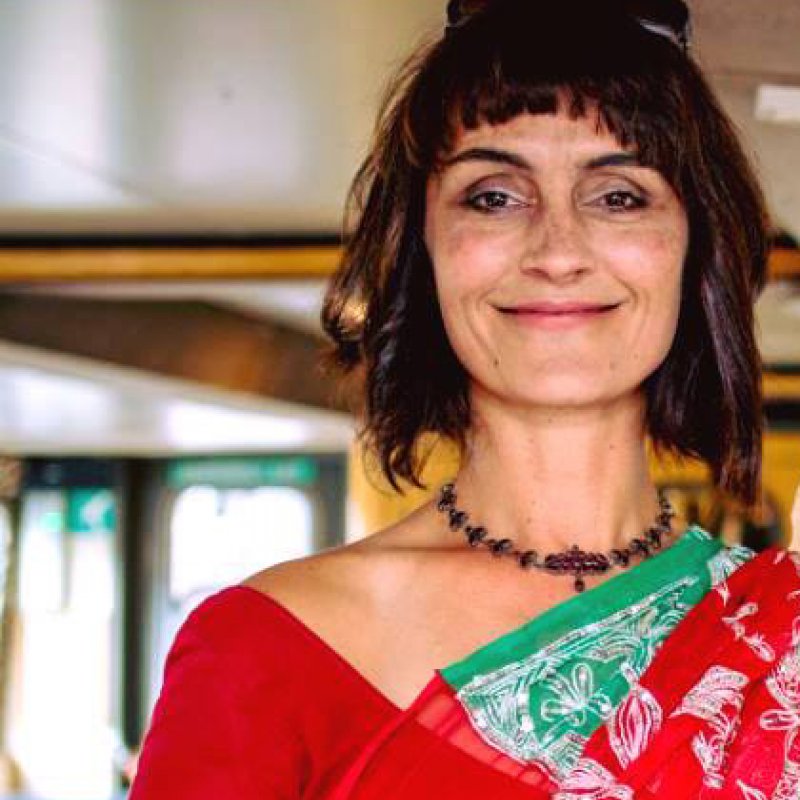 Contact details
Qualifications
| Year | Qualification | Awarding body |
| --- | --- | --- |
| 2015 | PhD | Plymouth University |
| 1998 | Actor Training | Bristol Old Vic Theatre School |
| 1998 | M.Phil | Plymouth University |
| 1993 | Foundation | Amsterdam School for New Dance |
| 1988 | B.A English | Oxford University |
Membership of external committees
Solo Contemporary Performance Forum
Research interests and expertise
Solo Performance
Solo Devising
Directing
Devising and Dramaturgy
Contact Improvisation
Postdramatic Theatre
Movement in Theatre
Race, Ethnicity and Identity Studies 
Publications and research outputs
Article
Conference or Workshop Item
Book
Thesis
Website
Journal
Externally funded research grants information
| Collaborators | Currency | Funder | HESA Category | Project title | Value | Year ending | Year starting |
| --- | --- | --- | --- | --- | --- | --- | --- |
| | GBP | Arts Council England | 4 UK central government bodies/local authorities, health & hospital authorities | Bed | 5000 | 2003 | 2003 |
| | GBP | HEFCE | 4 UK central government bodies/local authorities, health & hospital authorities | Solo Forum | 6000 | 2006 | 2006 |
| Trinity Arts, Milkbar | GBP | Bristol City Council | | Solo Forum Lab | 4500 | 2013 | 2013 |
| Bristol Old Vic, Trinity Arts, MilkBar | GBP | Arts Council England | | Solo Showcase | 10000 | 2014 | 2014 |
| Anna Maria Murphy, Aga Blonska | GBP | Hall for Cornwall | | Leave to Remain | 2000 | 2017 | 2017 |
| | GBP | Arts Council England Project Award | | Family Tree | £15,000 | 2021 | 2021 |
Current research students
David Greeves - PhD (second year): 'How is pedagogical and performative practice improved through the understanding of cognitive and perceptive processes when acquiring and delivering skilled embodied movement within vertical dance?'
Previous student supervision
I have externally examined three PhD students, at Sydney University, Roehampton University and Plymouth University.
Number of research degree examinations
1
Areas of teaching
Solo performance
Devised Theatre
contextual studies
directing productions
Voice
contact improvisation
Courses taught
BA Acting
BA Theatre and Performance
Independent professional practice
New solo in development - 'Leave To Remain' - Funded by Creation Space Hall for Cornwall. Due to premiere in Sept 2019.
Founded MisriDey Theatre in 2021, a diverse theatre company. First production ACE funded Family Tree, ta comic solo performance which toured Bristol, Exeter, and Falmouth, exploring stories from a diasporic family, migration and immigration. 
 
Social, community and cultural engagement
Executive Member Black Voices Cornwall
Engagement with professional associations and societies
Advance HE Fellowship Training