From concept to creation…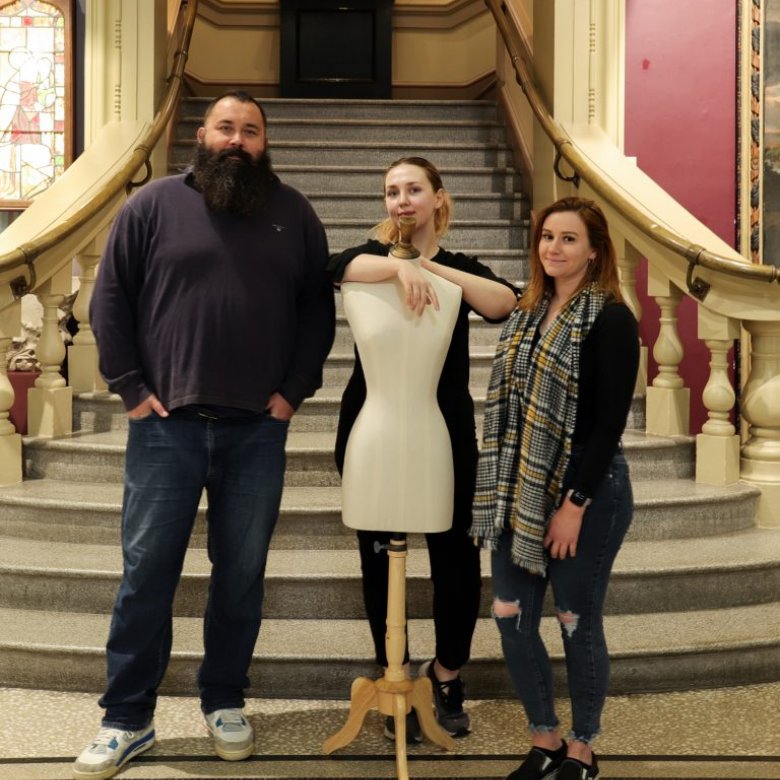 Purpose 3d 3 768x851
Amy Hardman, Adam Tindall and Natalia Tegos formed a Launchpad team in September 2019 taking on a challenge set by Falmouth University's Fashion & Textiles Institute (FTI) to build a gamified platform around their unique vintage clothing collection.
Fast-forward to 2021 and they are now the co-founders of Purpose 3D – a tech start-up specialising in the visualisation of vintage and historical clothing; building authentic and historically accurate 3D models, which can either be used by museums for displaying wares that are never necessarily on display, put into a games environment as digital assets, or used in the educational sector.
We recently caught up with Purpose 3D and Julie Ripley, Senior Lecturer in Textile Design at FTI, to discuss their transformation from Launchpad candidates to successful start-up.
What was the idea for the initial challenge?
Julie Ripley: A few years ago, a very smart student of mine wrote about 3D imaging and convinced me that this technology would play a huge part in fashion photography and retail. When I heard that Launchpad were looking for industry partners to challenge teams to start a new enterprise, I immediately saw potential to develop one of my pet projects – the FTI Textiles and Dress Collection. Like any archive, the collection spends most of its time carefully packed up in acid-free tissue paper or Tyvek dress bags. Students and staff have to request access if they want to see a garment but if we were able to see these items in glorious 3D, any time we wanted, to zoom in on pertinent details, to compare them side by side and spend as long as we liked doing it, then we would be a very happy institute indeed.
Purpose 3D: The initial challenge centred around gamified interaction with digitised historical clothing, and when we looked into the challenge further, we found a very niche area of vintage and historical clothing, with there being very few companies operating within that sector. While the initial challenge was a jumping off point for us, we have been able to develop the idea to match a number of market needs and found additional uses for our vintage clothing models along the way.
With a very exciting future ahead of us we are looking to move into different areas and bring out new model types. We are only at the start of this very exciting business and are looking forward to the possibilities that are ahead of us.
How did the partnership develop?
Purpose 3D: Strong connections with FTI and input from their staff was paramount in starting our business. Not only was Julie the person to spot a gap in the market and pose an initial challenge of doing something digital with the archive at Falmouth, but lecturer and archivist Di Downs trained us to a museum-level standard in the handling of garments and how to look after the clothing while we are scanning it.
Julie Ripley: Purpose 3D were keen to develop the business potential from the outset. They saw an opportunity to showcase their scanning technique at a Dress and Textile Collection exhibition I organised. This event gained extensive interest and also future traction as one of the invited guests – the Cornwall Museums Partnership – went on to become one of their first revenue streams.
Where there any obstacles you had to overcome along the way?
Purpose 3D: There has been several different obstacles that we have faced along the way, both technically and from a business standpoint. However, all challenges we have faced have made our business stronger and more robust and we have found newer and better ways of operating. FTI have given us a lot of guidance with any issues that we have faced in terms of garments and dressing of mannequins, and we have learned a lot by testing theories and ideas with them.
How has the pandemic affected your work?
Purpose 3D: The pandemic has had an impact on our work but there are so many positives to have come out of it. While the museums have been shut to the public during the lockdowns, people have still had the opportunity to view museum artefacts and interact with the museums. Not only has it helped museums still be able to showcase their garments, it has also opened up many different people's eyes to the possibilities that 3D scanning and digital art carries.
Julie Ripley: Falmouth University has remained open for business throughout the crisis, continuing its tuition online. One thing that became increasingly apparent as I adapted, along with my colleagues, to the 'new normal', was that education can be massively enhanced by technology. 3D scanning has never been more relevant or important to all that we do in FTI.
What's next for Purpose 3D?
Purpose 3D: We've already completed several jobs with museums in and around Cornwall, scanning their garment collections and turning them into 3D models. With a very exciting future ahead of us we are looking to move into different areas and bring out new model types. We are only at the start of this very exciting business and are looking forward to the possibilities that are ahead of us.
Julie Ripley: We look forward to Purpose 3D playing an important role in providing a digital resource that can be accessed on and off campus, that will support and complement the physical resource of which we are all so proud. We hope to be the first of many universities to take advantage of this incredible technology and the adaptable, hardworking team at Purpose 3D.