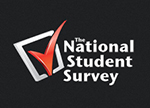 The experience and satisfaction of our students is really important to us. Here we have included a selection of their anonymous comments about some of the areas they think we have been particularly successful in. These have been taken from the National Student Survey (NSS) 2013, administered by Ipsos MORI, an independent market research agency.
January of each year sees the launch of the NSS at most higher education (HE) institutions and further education colleges providing HE courses. The NSS is for students in the final year of their degree. It gives them the opportunity to share their opinions on what they liked about their time at university or college and about what they felt could have been improved. The students' answers remain anonymous at all times.
Responses to the National Student Survey are one way we get feedback from our students, enabling us to improve things they feel we could do better. But we don't rely on anonymous survey results alone for this information. The student voice is also heard through informal discussions with tutors, and through regular formal meetings with student representatives from Sustainable Product Design.
Return to the BA(Hons) Sustainable Product Design course page