Associate Professor in Graphic Design
Timothy Donaldson is a letterworker: a practising graphic designer, type designer and action calligrapher with enthusiasm for the use, abuse and reuse of text as a communication device. He is the author of Shapes for sounds, a widely available treatise on the past, present and future of the Latin alphabet, and the first of a trilogy of interconnected monographs. He teaches via the media of the lecture, the seminar, the workshop, the demonstration and studio practice. He believes that graphic design is one of the most important methods we have for mediating our culture and is devoted to raising the world's awareness to match its ubiquity.

He was formed in the North West of England, an only child of Yorkshire parents. He developed an obsessive interest in drawing during his first decade which matured into another obsession with writing (still drawing) during his second one. During his third decade he was a journeyman signwriter, earning his crust in pursuit of the just forming of letters. By his fourth decade he had become a lettering artist and type designer and a lecturer in typography at Stafford School of Art & Design - a legendary destination for the teaching and learning of typography in England. After the challenging opportunity of balancing teaching, family life and freelance work with postgraduate study, he was awarded an MA by the University of Lincoln, who subsequently awarded him a Research Fellowship in Graphic Design enabling him to focus fully on his work with lettershapes and letterforms. This coincided with the emergence of his first writings on design and the publication of his first book, Shapes for Sounds.

He has lectured on graphic design internationally since the mid 1990s and designed over 40 typefaces for Adobe, FontShop International, The International Typeface Corporation and Letraset. On multiple occasions his typefaces have won the highest awards in the Morisawa international typeface design competition, Japan, and received awards in the Brno Biennale, Czech Republic. His writings in his field have been acclaimed and celebrated by The American Institute of Graphic Arts with their inclusion in two of its permanent national archives. He is well known for his ongoing experiments with tools and chirographic mark-making, particularly in large-scale performances which explore the convergences of group narratives, divergent orthographies, semiotics and action drawing. He continues to perform and lecture internationally, design typefaces and contribute to the global corpus of critical graphic design writing, and now teaches at Falmouth where he attempts to trace a meaningful path between the history, theory and practice of graphic design.
External Links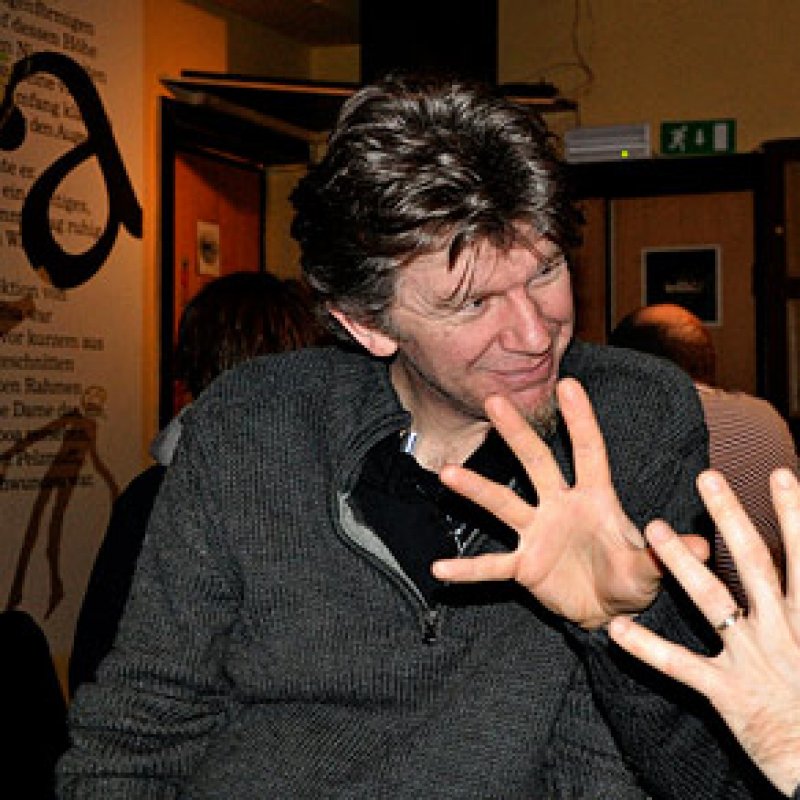 Contact details
Qualifications
| Year | Qualification | Awarding body |
| --- | --- | --- |
| 2006 | MA (Distinction) | University of Lincoln |
| 1994 | CertEd | University of Wolverhampton |
Honors and awards
| Year | Description |
| --- | --- |
| 2012 | The Morisawa International Type Design Competition, Tokyo, Japan Akashi award |
| 2009 | AIGA (American Institute of Graphic Arts) My first book, Shapes for Sounds, is part of the AIGA archive: a permanent, accessible, historical record of notable graphic design, housed at the Denver Art Museum, USA and part of the Books and Manuscripts collection at the Butler Library, Columbia University |
| 2002 | The Morisawa International Type Design Competition, Tokyo, Japan Silver award |
| 1997 | New York Type Directors Club award |
| 1996 | 17th International Biennale of Graphic Design, Brno, Czech Republic |
| 1996 | The Morisawa International Type Design Competition, Tokyo, Japan Silver award and Honourable mention |
Research interests and expertise
My interests in research invariably connect to a central theme of communication, and thence to associated themes of symbolism, orthography and representation. This places me comfortably (sometimes uncomfortably) into a framework of graphic design, where I can pursue the undernourished, intellectual end of the discipline. This research is bodied forth in the form of writing and writing - the production of texts in multiple forms: to performatively explore the nature of orthography, its binding to the human condition and its persistence in the context of new technologies, and to make records and reports of such in the long-form narratives of articles and books.
I am interested in supervising research that connects to the above: topics such as handwriting, typography, type design, semiotics, linguistics, gestural drawing and cognition would all be welcome territory for me.
Research Topics
Handwriting
Letterwork
Performance
Publishing
Type Design
Typography
Writing
Publications and research outputs
Article
Donaldson, Timothy

(2009) Ceci n'est-pas une lettre. Baseline Magazine, 57. ISSN 0954-9226 Item not available from this repository.
Book
Donaldson, Timothy

(2008) Shapes for Sounds. Mark Batty Publisher, New York, USA. ISBN 978-0979966620 Item not available from this repository.
Artwork
Exhibition
Areas of teaching
Graphic Design
History and Theory of Graphic Design
Courses taught
Consultancy and facility services
I am an occasional reviewer for book proposals for AVA Publishing and SAGE Publications.
Engagement with professional associations and societies
External Examiner, Arts University Bournemouth
BA (Hons) Graphic Design

Co-editor, Book 2.0
Journal, Intellect