Research Supervisor
Gareth is a software engineer specialising in web development across the full-stack of frontend and backend development.
Over the past 30 years he has gained a wealth of experience as both a technical developer and project manager in multiple funded start-up and spin-out ventures as well as teaching at multiple universities in the UK.
 
Gareth works as an online tutor in User Experience Design at Falmouth University. He holds undergraduate degrees in Computer Science and Art History along with a postgraduate certificate in higher Education.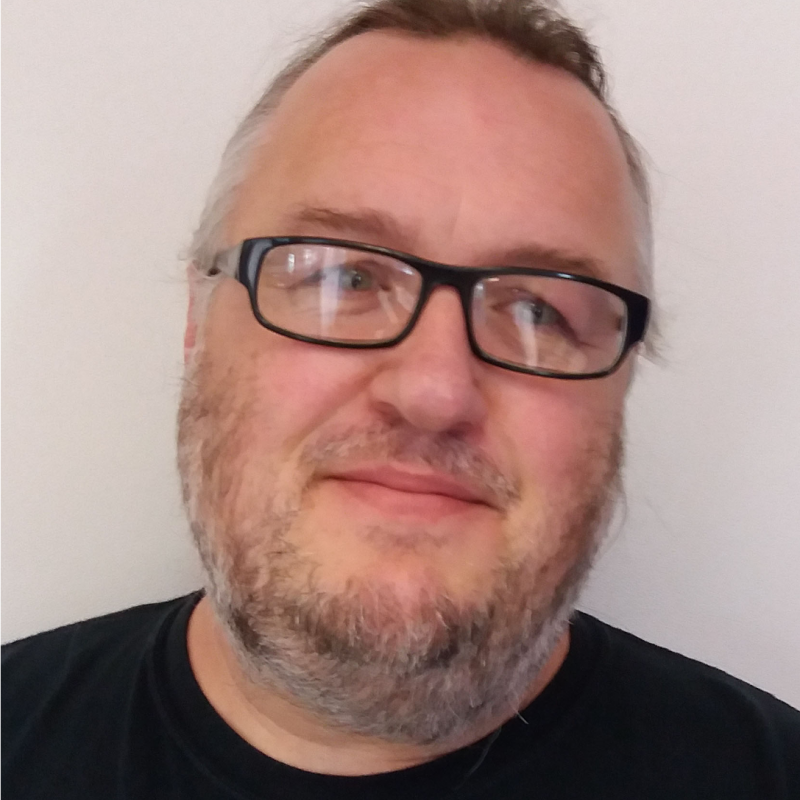 Contact details
Qualifications
| Year | Qualification | Awarding body |
| --- | --- | --- |
| 2016 | BA(Hons) Humanities with Art History | Open University |
| 2007 | MBA | Open University |
| 2006 | PG Cert in Technology Managment | Open University |
| 2005 | PG Cert in Business Administration | Open University |
| 1993 | MSc Intelligent Systems | Plymouth University |
| 1992 | BSc(Hons) Computer Science | Brighton Polytechnic |
Research interests and expertise
My research interests stem from my previous professional activities. As a creative technologist, I am very experienced with solving solving problems with a variety of approaches, techniques and language and I am well versed in analysis, design and implementation. I'm also very used to working with creative clients that find requirements gathering a real challenge. As a business analyst, I have developed a strong interesting in building analytical models of business, systems and processes as well as financial models. Finally, as a veteran of multiple start-up companies, big and small, I have developed interests in many areas of business, not least through my MBA studies and corporate due diligence. I am particularly interested in marketing and marketing validation for start-ups, team building and team dynamics and start-up strategic planning and execution.
Research Topics
Artificial Intelligence
Business analysis and planning
Business strategies for start-up games companies
Creating re-usable technology
Developing bespoke technology for games
Gameplay development
Genetic programming
Indie games develop
Marketing for digital start-ups
music / audio technology for games
Optimising games
procedurally generated content
software as a service
Software development with off-the-shelf technology
software engineering
systems architecture
Areas of teaching
Online tutoring
Research supervisor
Courses taught
User Experience MA (online)
Intellectual property
Abstract: A client device downloads an interactive multimedia content package, such as a video game, from a server across a network. The package includes executable code and a plurality of graphical asset files. A wrapper component is provided in the package, which provides an intermediate layer between the executable code and a runtime environment of the client device. The wrapper component restricts functionality of the interactive multimedia content package to provide a demonstration or trial mode, in particular having time limitations (e.g. a rental mode) or functional limitations regarding the assets and/or progress within the content by the executable code. The wrapper component may be removed or inactivated, thereby achieving a full or unlimited mode of the package.
Business start ups
2005- Present Gazcorp Limited
MD, Management consultancy business

2014-Present Banshee Bytes Limited
CTO, Video game development company
Independent professional practice
2014-Present CTO, Underzone, Strike Gamelabs
Technical director of Cornish SEIS-funded indie game company developing Underzone
https://underzonegame.com/

2013-14 CTO, Remode Studio
Technical director of a Devon-based boutique video game and interactive media company making mobile and web-based games and entertainment products for a wide range of IP-holders

Jan 2012 - August 2013 Contract R&D Programmer, Tangentix
Technical consultant for an innovative digital game trial and delivery service

2011 Lead Programmer, Bloodforge, Microsoft Games
Responsible for technical delivery of Xbox title as part of Microsoft's 'Spring 2012' marketing campagin
https://marketplace.xbox.com/en-GB/product/Bloodforge/66acd000-77fe-1000-9115-d80258410b7a#

2007-2010 Mutators Research
CTO / Strategy Director,  Goldsmith College-based research project and attempted commercial spin-off

2007 Investment Directions & Opportunities in the UK Computer Games Industry NESTA Investment
Co-author of strategic guide for NESTA