Associate Lecturer
I have been teaching on Marine and Natural History Photography since 2014. Having a double set of qualifications in both biosciences/ecology and photography, my expertise can be divided into the two categories.

As a freelance photographer/filmmaker I have undertaken numerous independently organised expeditions in remote wilderness locations on every continent except Antarctica. Photographic work produced on these endeavours has been published globally in books, advertisements, calendars, and more, including Lonely Planet Guidebooks and National Geographic Magazine. I am a contributing photographer with Getty Images (formerly with Lonely Planet Images). As a filmmaker I produce promotional/educational films for scientific research groups and University science departments. My independent travel/expedition films have been featured on the National Geographic Channel and published widely online.

I am also a published and practising scientist, with an intimate knowledge of the scientific process and how it is used in the context of ecology, conservation and animal behaviour. Currently I am undertaking a PhD in insect behaviour and cognition, which involves not only research but also networking with other scientists and institutions, including considerable involvement with the Natural History Museum in London.

Given the heavy focus on animal behaviour in the world of Natural History Photography and filmmaking, the insight and contacts with other researchers working in this field act as an exceptional resource for the students interested in working with scientists. A combination of being able to understand and negotiate the worlds of scientific research and photography helps me in my teaching of students requiring insight into both fields on the Marine and Natural History Photography course.

External Links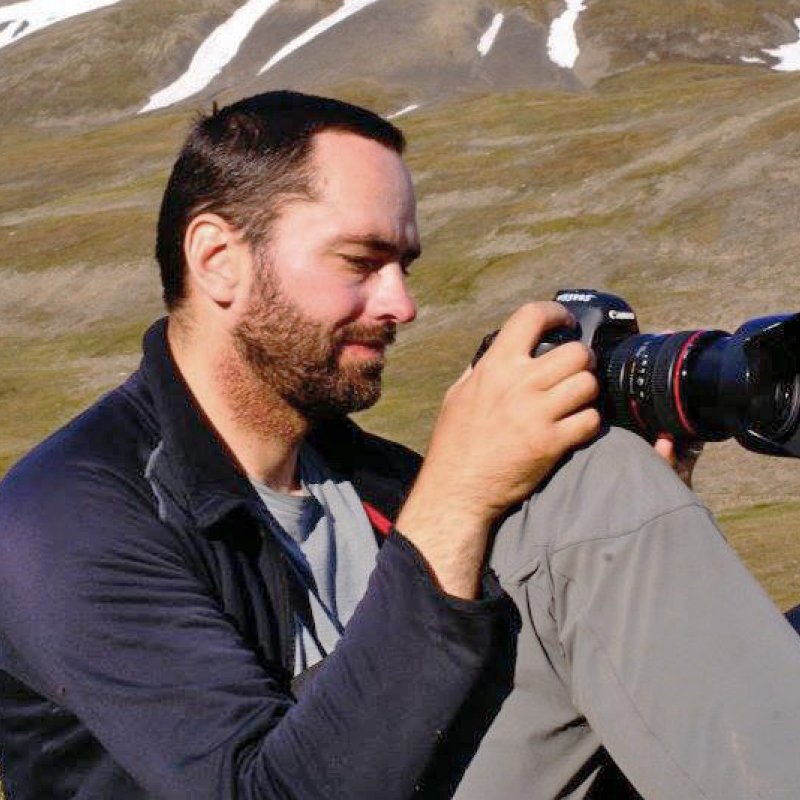 Contact details
Qualifications
| Year | Qualification | Awarding body |
| --- | --- | --- |
| 2004 | BA (Hons) Documentary Photography | University of Wales Newport |
| 2008 | Documentary Filmmaking course | Met Film School, London |
| 2014 | BSc (Hons) 1st-class, Conservation Biology and Ecology | University of Exeter |
| 2020 | PhD Social Brains and Behaviour in cooperative insect societies | University of Exeter - in progress |
Research interests and expertise
My Photographic practice is focused on exploration and wilderness. As such I have extensive experience planning and undertaking expeditions to sometimes extremely remote locations. I am interested in the relative purity of such places, and in bringing the surprising vastness of the worlds untamed areas into my work. I am especially interested in cutting edge exploration and using both film and still photography to document visits to literally untouched places, be they first ascents of mountains, exploring caves, or the underwater environment in remote freshwater habitats.
My scientific research explores the evolution of the brain in Social insects. Specifically I perform extensive behavioural observations of wasps in the wild, and also use cutting-edge micro computer tomography to visualize the insects brains in three dimensions. The aims of this research are to investigate a potential causal link between the cognitive demands of being social and the volume of specific brain regions, or to put it more simply, if you have to socialise in a complex group, do you need to be more brainy?
Research Topics
Wilderness photography
landscape photography
wildlife
cognition
animal societies
Evolution
animal behaviour
Publications and research outputs
Externally funded research grants information
| Collaborators | Currency | Funder | HESA Category | Project title | Value | Year ending | Year starting |
| --- | --- | --- | --- | --- | --- | --- | --- |
| Exeter University, Natural History Museum, Bristol University | GBP | National Environment Research Council | 4 UK central government bodies/local authorities, health & hospital authorities | Social Brains and Behaviour in Cooperative Insect Societies | | 2020 | 2016 |
Events
2004 The Blaskets, an exhibition of work covering the Blasket Islands off the southwest coast of Ireland, held in 'The Blasket Centre' in Dunquinn, County Kerry
Events
2006 'Perspective', an exhibition of aerial images of the Wicklow Mountains in eastern Ireland, taken from the photographers own motorised paraglider. Held at the Signal Arts Centre in Bray, Ireland
Areas of teaching
Wildlife Photography
Landscape photography
Conservation Science
Biodiversity
animal behaviour
Courses taught
Marine and Natural History Photography BA(Hons)
Intellectual property
I own the rights to all of my Film and Photographic output.

Business start ups
Feargus Cooney Photography