Dr Sherezade García Rangel
Course Leader and Lecturer in English and Creative Writing
Sherezade is Venezuelan writer, podcaster, lecturer and researcher based in Falmouth University. She joined Falmouth in 2018, where she teaches in English and Creative Writing, and she is the Course Leader of the online BA in Creative Writing. Sherezade writes short fiction, literary fiction, creative non-fiction and podcast scripts and is the award-winning founder and host of the On The Hill podcast about Cornish cemeteries and the stories buried there. Her research focuses on historical accounts of Cornwall, cemeteries, Venezuela and the Venezuelan diaspora, the literary novel, the podcast form and practice, the short story, creative non-fiction and the connections between art and literature. She is fascinated with the possibilities of creative writing as a disruptive, multimodal practice and enjoys developing and deploying a dynamic teaching practice within its pedagogy.
Sherezade has presented her writing and research at a number of peer-reviewed conferences and publications including Translational Literature's Follow the Sun (2012), Stay-at-Home Festival (2020), NAWE2019, Borders and Crossings 2019, AyeWrite! (2015), 'Attentive Writers': Healthcare, Authorship, and Authority in the University of Glasgow (2013), Writing into Art in Strathclyde University (2013), Objects at Oxford University (2013). For more details about her research please see section below.
Sherezade's creative work has appeared in a variety of magazines and anthologies, including Gutter Magazine, Hwearf, On The Hill podcast, Miscellaneous: Writing Inspired by The Hunterian, Nest Podcast and others. She was a Writer in Residence at The Hunterian museum (2014–2016). She also undertook a residency with The Bothy project (2018). She was the Staff Editor of FalWriting creative lab and literary online magazine from 2018 to 2020. She was awarded an Awen medal for Awenekter/Creativity by Gorsedh Kernow for her work in creating the On The Hill podcast (2020).
She was named January's Woman of the Month by The Hypatia Trust (2021). She is a Research Fellow for the Wiley Digital Archive at the Royal Geographical Society, where she is currently exploring representations of Venezuela in the digital archives.
External Links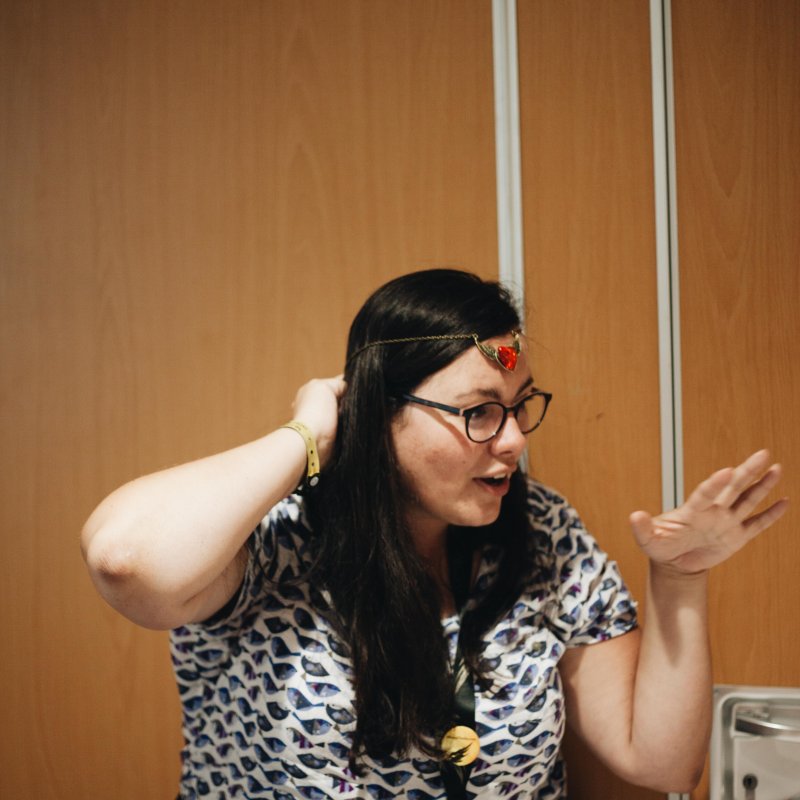 Contact details
Qualifications
| Year | Qualification | Awarding body |
| --- | --- | --- |
| 2020 | PGCHE | Falmouth University |
| 2016 | PhD in Creative Writing | University of Glasgow |
| 2011 | MA in Creative Writing | Newcastle University |
| 2006 | PGC in Photojournalism | Universitat Autonoma de Barcelona |
| 2005 | BA in Social Communications (Audiovisuals) | Universidad Catolica Andres Bellow |
Honors and awards
| Year | Description |
| --- | --- |
| 2020 | Awen Medal for Awenekter/Creativity awarded by Gorsedh Kernow |
Membership of external committees
National Association for Writers in Education
Research interests and expertise
My research interests include creative writing, podcasting, women in podcasting, the podcast as a literary form, multimodal creative practice, practice-led research, literary fiction, contemporary writing, the short story, Venezuela and the Venezuelan diaspora, cemeteries, Cornwall's history, the Symbolist art movement, Hugo Simberg and the connections between writing and art. My PhD thesis focuses on literary representations of Hugo Simberg's 'The Wounded Angel' (1903) and for it I produced a literary novel of my own interpretation.
Research Topics
Cemetries
Contemporary writing
Cornwall and its history
Creative non-fiction
Hugo Simberg
Literary fiction
Podcasts
Venezuala
Venezuala diaspora
Writing and art
Publications and research outputs
I have presented literature, podcast and practice-led research at a wide range of peer-reviewed conferences internationally and in a number of publications, including:
- January 2021 Vámonos: a short story about place and displacement in the Venezuelan Diaspora at the Transnational Literatures Conference Follow the Sun.
- June 2020 New Aural Cultures presents PhDCasting 6: Confirmation of Route Here We Come Dr Sherezade Garcia Rangel. New Aural Cultures podcast.
- May 2020 Virtual talk: Falmouth's cemetery with 'On The Hill' podcast founder, Dr Sherezade García Rangel, Cornish Maritime Churches Project, Institute of Cornish Studies.
- April 2020 The Literary podcast and Writing in Collaboration panel, Stay-At-Home Literary Festival, University of Glasgow and Paper Nations.
- November 2019 The Relevant Britain Award workshop, NAWE2019, York.
- September 2019 On the Hill - Reassembling and Retelling the Stories Lying Dormant in the Falmouth Cemetery, Folk Horror Conference, Falmouth 2019
- July 2019 Ni allá ni acá - a short story about the Venezuela diaspora and the perennial border crossings, Borders and Crossings 2019, University of Leicester. Published now in Gutter Magazine Issue 21.
Publications include 'Here', Hwearf Literary Journal, Volume 1 (2020), 'Ni allá ni acá', Gutter Magazine, Issue 21(2020), On the Hill podcast Season One: Falmouth Cemetery (13 episodes, 2018-2021), 'Emerging Issues in Anticoagulation Therapy' for LumiraDx Care Solutions (2017), 'Unseen' in Miscellaneous: Writing Inspired by The Hunterian (2016), 'Loyal Flying Pigeons', Issue 23, From Glasgow to Saturn (2011) and others.
Areas of teaching
Collaborative projects
Contemporary writing
Creative collaborations
Creative non-fiction
Creative Writing
English
English with Creative Writing
Fiction
Literature and identity
Multimodal writing practice
Courses taught
English and Creative Writing BA(Hons)
Creative Writing BA(Hons) (Online)
Professional Writing MA
Independent professional practice
Her work as a podcast producer, writer and creative writing tutor has featured in multiple collaborations and performances including the Intercom Trust, SoundArt Radio, SourceFM, the Cornish Maritime Churches project and The Lit Platform.
Social, community and cultural engagement
Sherezade collaborates with We Love Falmouth Cemetery as part of her work for On The Hill Podcast. She is currently working with the Falmouth Art Gallery and the Friends of Ponsharden Cemetery on a project to tell the story of this cemetery within On The Hill.
Engagement with professional associations and societies
Sherezade has participated in NAWE's 2019 conference and will be running a workshop in 2021.
Professional esteem indicators
| Year | Description |
| --- | --- |
| 2020 | Awen Medal for Awenekter/Creativity awarded by Gorsedh Kernow |
| 2021 | Research Fellowship in the Wiley Digital Archives of the Royal Geographic Society 'Unbound Beauty: Venezuela according to the Wiley Digital Archive' |