Senior Lecturer, BA (Hons) Film
Angela is a senior lecturer on BA(Hons) Film and a painter/printmaker specialising in woodcut illustration for books and film, and expressionist acrylic land and seascapes. Her academic specialisation is in the written word, writing for diverse audiences, copy editing and applied creative writing. 
A former journalist, magazine editor, sub-editor and graphic designer, she has worked for the Sunday Times, the Financial Times, English Heritage, Blue Plaque Poets, Microsoft, Hewlett-Packard, Business Age, Accountancy Age, and many others in both staff and freelance roles. She has been both a chief sub-editor (London Section, Sunday Times Magazine) and a managing editor (Business Age), as well as running her own contract publishing company for ten years.
Her teaching covers film journalism, sub-editing, writing and magazine management, and dissertation, specialising in developing professional and creative writing and editing skills. Research interests include iPads in Art & Design, student retention and satisfaction initiatives, the role of fun in higher education, functional linguistics in teaching and student employability. Her woodcuts can be seen in the recent film Ryan Macfall short Backwoods and in 'Insomniac's Fable', a collaboration with Finnish-based MakeShift Company. 
Angela is also a freelance writer and editor for paper and online publications, a voiceover artist, and a practising artist.
You can see her creative work at 
www.ravenstongue.co.uk
 or at 
https://www.instagram.com/ravenstongueprints/
. Her work can be seen in local galleries and in a range of national and local books and publications. 
Angela is a fellow of the HEA. 
External Links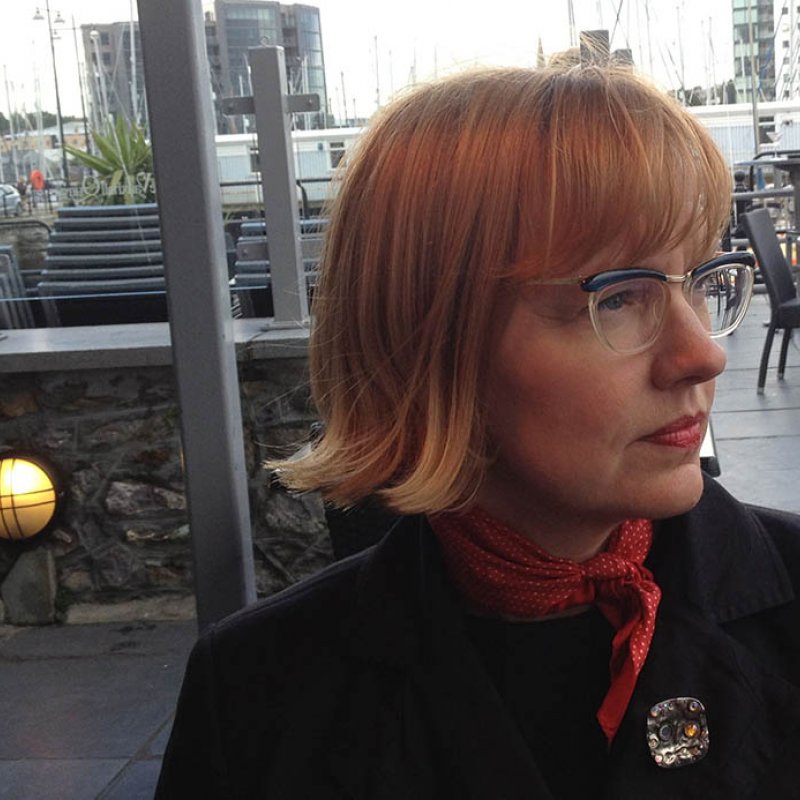 Contact details
Qualifications
| Year | Qualification | Awarding body |
| --- | --- | --- |
| 1990 | BA Hons English & German | Lancaster University |
| 2008 | PGCHE in Creative Education | University College Falmouth |
| 2013 | MA in Creative Education | Falmouth University |
| 2012 | Investigating Language in Action (MA module) | Open University |
| 2010 | Emoderating | University of Leicester |
| 2008 | Fellow of the HEA | HEA |
Membership of external committees
Trustee of the Cornwall Crafts Association
Research interests and expertise
Using functional linguistics for employability and effective teaching in higher education, iPads in higher education, the first year experience, transition, fun in higher education, student feeback mechanisms, the use of iPhones for student marketing.
Research Topics
Pedagogy
Linguistics
Collaborative design
Publications and research outputs
Fox, Neil

Annesley, Angela and Marshall, Kingsley, (2019), Making Strange: Adapting H. P. Lovecraft for the Screen, In: Folk Horror In The 21st Century, 4-6 September, 2019, Falmouth University
Annesley, Angela

(2015), Comparing student and faculty perceptions on the instructional value of iPads in art and design education, In: Ipads in Higher Education: Proceedings of the 1st International Conference on the Use of IPads in Higher Education (ihe2014), Cambridge Scholars Publishing, Online, ISBN: 1-4438-7626-7, Item availability may be restricted.
Areas of teaching
Writing About Film
Film Journalism
sub-editing
Employability (Film)
Production Journalism
Courses taught
FIL302 Dissertation
FIL301 Practice
Business start ups
Ravenstongue.co.uk
Engagement with professional associations and societies
HEA Fellow