This programme is grounded in the need to generate new alliances and ways of conducting environmental arts research that are able to influence cultural policy, address global questions and contribute to the resilience of shared environments in regional and national contexts.
The next thirty years present environmental challenges and changes that outpace what we have seen so far. Especially in light of the climate emergency, but with respect to wellbeing of ourselves and the natural world more broadly, environmental research must be future-focused and genuinely interdisciplinary, characterised by open, ecological, and often design-led ways of thinking and working.
We are interested in questions concerning the complex functions and dynamics of these living networks, in which the creative industries have a key connective role: in connecting communities and cultures, in generating illuminating experiences of natural systems and our human role in them, by imagining better ways of engaging with our lived world, and pioneering innovative designs for future modes of living.
Central to this is a study of emergent and shifting relationships among the arts, technology and environments, where we look at questions of sustainability and innovation side by side.
Key areas of focus include:
Living Networks: Climate Humanities, Energy and Informatics
Shaping Futures: Design for Coastal Industries & Agri-Tech
Communities Connected: Access to the Arts and Technology
Against Boundaries: Collaborations in Arts and Sciences
Future Cornwall: Sustaining Heritage and Coastal Tourism
Land, Sea and Space: Engaging Extreme Environments
Bee Friendly: Design Approaches to Agricultural Sustainability
Blue Mind: Coastal Environments and Mental Health
Research in this programme has produced exciting applications in areas such as agri-tech, aquaculture, tourism and mental health, suited to the nonlinear and uncertain realities in which we now live.
The questions we seek to address are:
How can innovative design for industry promote regeneration, rather than just 'sustainability'?
How do environmental challenges in rural areas compare to those of urban environments, and how can we address them more effectively?
How can creativity generate meaningful and viable solutions for the climate emergency that have wide scope and reach?
What is meant by Climate Humanities, and how can we develop it further in light of the climate emergency?
What unconventional modes of engagement can be developed to shift human behaviours?
What role will complexity play in future modes of living, and how can we develop human capacity to manage that complexity?
How can innovative design approaches enable new ways of relating to nonhumans and nonhuman environments, in ways that are productive for industry and society?
How can we preserve elements of rural and traditional environmental practises in a time of rapid change – and in what ways will these practises inform future ways of living and working?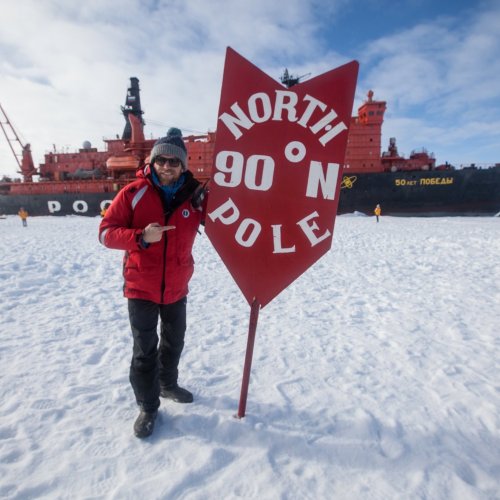 huw_north_pole.jpeg
Dr Huw Lewis-Jones
---
Dr Huw Lewis-Jones is an Associate Professor of Environment and Culture at Falmouth. As an environmental historian and expedition leader, Huw is interested in capturing the natural world. His research and professional outputs focus on the environmental humanities and animal history. Huw is an award-winning author, photo editor, art director and curator, as well as being a passionate advocate for conservation and sustainability.
View profile
Some of the projects within this programme include:​
PhD and MPhil researchers aligning with the Environmental Futures programme include: 
| | |
| --- | --- |
| Name | Thesis title |
| Daniel O'Carroll | Writing the New Heritage: A Bakhtinian challenge to storytelling the Authorized Heritage Discourse |
| Jerry Padfield | Broadening Participation in Community Radio: Investigating Methods for Inclusion and Well-being |
| Jane Moss | What is the Potential of Digital Media as a Resource in Co-authorship of a Community Novel? |
Alignment criteria​
We welcome applications for PhD or MPhil that align to any of the research questions listed above, or other question(s) related to the ways the arts and creative industries can and will be used to shape environmental futures.
How to apply​
Falmouth University's Research Repository (FURR) hosts, preserves and provides open access to our publicly available collection of University produced research materials, for the benefit of staff students, the wider field and general public.​