Tony Rickaby, born 1944, studied at Portsmouth College of Art and St Martin's School of Art.
1967-70: working with the Archigram and Light/Sound Workshop groups.
1970-78: looking at the relationship between art, popular culture and politics in exhibitions including Art For Society and Art From the British Left, and in solo exhibitions at Franklin Furnace, NYC and Art Net, London.
1978-90: using buildings as metaphors for economic, ideological and political power. Solo exhibitions at C Space, NYC, Orchard Gallery, Derry, Bluecoat Gallery, Liverpool and Art Net, London.
1990-2004: paintings, constructions and installations on the theme of homelessness. Group exhibitions included East International and Whitechapel Open, and solo exhibitions at Central Space and Standpoint Gallery, London, and Colette, Paris.
2004- historical/autobiographical reflections on the 1940s. Seen in Arttextiles 3, Canvas, Babylon Gallery, Ely, and Threads of Meaning, Chapel Gallery, Ormskirk. Also on websites such as Drunken Boat and Locus Novus.
Contact:
tonyrickaby@dsl.pipex.com
tonyrickaby.co.uk
Green Grid Red Story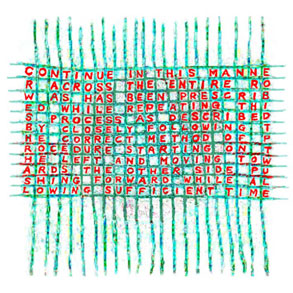 Public Pages. All work remains copyright of the artist.