Writer and artist Scott MacLeod has made live, time-based, media, conceptual and/or static work in the USA and internationally since 1979. His installations and paintings have exhibited in the USA and in the Czech Republic, Belgium, England, Italy and Germany.
His writings have been widely published in the USA and, in translation, in Russia, Yugoslavia and the Czech Republic. Conceptual/literary projects include The Imagined Gallery; The Institute for Study & Application, Kohoutenberg; and The North Oakland Temporary Museum.
He has presented over 100 performances in 13 countries and co-produced several international cultural exchange projects between USA, France, Soviet Union and Czechoslovakia.
MacLeod's work is archived at the Avant Writing Collection of the Rare Books and Manuscripts Library of Ohio State University, Columbus and the Experimental Writing Collection of University at Buffalo, New York.
Contact:
macleod.dnai@rcn.com
seriousprojects.blogspot.com
untitled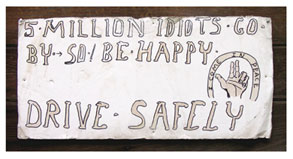 Public Pages. All work remains copyright of the artist.