Sarah Tremlett studied at Amersham & Wycombe College, Bath Spa University and University of the Arts London. She has a first class BA Hons in Fine Art and an MA in Creative Writing. Her text-based videos subvert patriarchal systems and language, where error aligns with the feminine, the individual and the unconscious. She is studying for a PhD on women artists, text and the maternal at Chelsea College of Art and Design.
SELECTED EXHIBITIONS
2007
Animus/Wilderness, Barbès, Glass Eye, Brooklyn
Disposable Fetish, The Nunnery Gallery, London
After Urban, University of Pennsylvania, Philadelphia
2006
Attitude Festival, Gallery Magaza, Bitola, Republic of Macedonia
EXiS, Seoul, Korea
Foster Art, Winter Exhibition, London
Cafe Gallery Projects, video installation, London
Glossolalia, video installation, USA
Emergeandsee, video installation, Berlin Festival
Temporary Identities, video art at Novosibirsk State Art Museum, Russia
Indiana International Video Art and Architecture Festival, USA
Rivers Edge Film Festival, USA
Temporary Cities, Cultural Communication Centre, Klaipeda, Lithuania
Contact:
sarahtremlett@myway.com
from Blanks in Discourse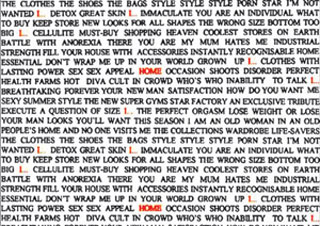 Public Pages. All work remains copyright of the artist.