Mary Crowder was born in Luton in 1956. Initially she trained in the NHS as a nurse. In 2002 Mary began studying Ceramics at Bath Spa University. Currently she is completing her final year in Drawing & Applied Arts at UWE Bristol. Since 2003 she has shown extensively in the South West Region including "Signature" at the Wide White Wall, UWE, Bristol; 'Bristol Art Show' Centre Space, Bristol and The Royal West of England Academy, Bristol.
Mary's duality as an artist and Operating Theatre nurse, combined with her severe childhood dyslexia triggered her interest in letters on a page and the spatial area surrounding them, as they create both a written narrative and a visual image.
BASS: Linocut print on Somerset Velvet 250g. 12 x 8 cm.
From a series - The Heteronym Alphabet.
BASS is a Heteronym; Heteronyms have duality, alternative narratives. The letters have been reconfigured to create what initially would seem a perplexing image, a seemingly unstructured narrative where the letters have become obscure. However, BASS is still bound by the same sequence of letters, resulting in duality of image, an alternative visual narrative, aiming to provoke fundamental inquiry about reading and seeing.
Contact:
mary@mec2003.fsnet.co.uk
BASS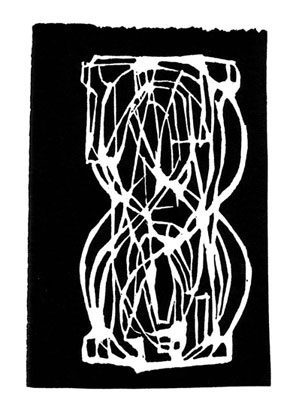 Public Pages. All work remains copyright of the artist.