Mary Bartlett, native Devonian, born 1946.
First female horticultural student Dartington Hall gardens 1963.
Author of standard monograph on the plant genus Gentiana 1975.
Tutor responsible for Bookbinding, Craft Education, Dartington Hall Trust 1986 to date.
Dartington Parish Councillor and Tree Warden 1987-91.
Researcher for Television South West 1983-92. Five hundred half-hour programmes, Gardens for All.
Awarded Honorary Master of Arts 2003 Dartington College of Arts.
Collaborations
Adrian Mitchell (poet) and Andrew Dickson (composer) an adaptation of children's book Unicorn Island, first performed 1992.
Alice Oswald (poet) Tree Ghosts.
Rigby Graham (artist) John Mason and George Percival, A Reminiscence.
Roy Harris (Emeritus Professor of Linguistics, Oxford University) Ox Book, Tyranny of the Codex.
Limited edition books with Dartington Printmakers. A copy of A Printmakers Flora is in the National Book Art collection at the Victoria and Albert Museum London.
Norman Young (artist), A Modern Alphabet for Unicorns. Commended Society of Bookbinders competition. Commended Fine Press Association.
Hazel Brown (artist), A Book of Modern Fables. Commended Fine Press Association.
Current collaboration Deborah Price, who encouraged the printing for the exhibition of An Anatomy of an Industrial Disease in memory of Bramwell Bartlett 1934-2005, who died from the asbestos-related disease Mesothelioma. Married to Mary 1968 and much missed by his daughters Lucy and Emma.
Anatomy of an Industrial Disease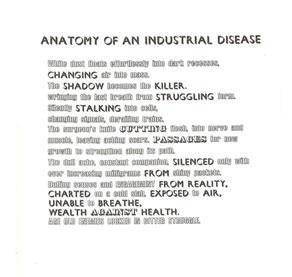 Public Pages. All work remains copyright of the artist.