Mark is a performance artist/writer who recently completed an MA in Performance Writing at Dartington College of Arts. 'The Form' is a response to 'Public Pages' and represents betting and gambling on horse racing as 'writerly practice'. Aspects of habitual, ritualistic behaviour, decision making, and notions of chance accompany and foreground this process and this is reflected in the work. Mark has written through and around a betting shop display sheet, utilising betting slips and the outcome of each race in order to generate an exploratory textual work.
Further examples of Greenwood's performance work can be found at:
panzen.net
Contact:
markgreenwood23@hotmail.com
FinalRacing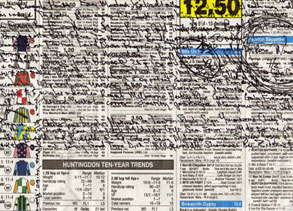 Public Pages. All work remains copyright of the artist.