Mags Treanor is a transliterate artist who lives, writes and rants in the West of Ireland. When not hacking away at her current project - a novel, she can be found performing slam poetry, and falling in love with the short story.
Her work has been anthologised by New Island Press, the Harrington Press, West47 (the Galway Arts Centre's online journal) and also broadcast on RTE Radio One, Ireland's national radio station. Currently, Mags is also completing a Master's Degree in Creative Writing and New Media with the de Montfort University in Leicester, England.
In her spare time Mags single-handedly raises her three children, works as a business consultant and takes long walks along the Galway coastline with Milo, the dog.
Contact:
magstreanor@gmail.com
Chez Vous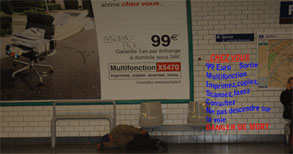 Public Pages. All work remains copyright of the artist.