Lee Gough is a printmaker and poet living in Brooklyn, New York. The page excerpted here contains snippets of semi-public military speech and political speech about civilian death. It is part of a larger hybrid multi-genre work that attempts to address, through drawings and text, the psychic debris of public death, war and violence in the poetic imagination of the unspeakable. Interwoven in this work is a visual meditation centered on the 'Hanging Gardens of Babylon'.
Some of her prints can be viewed by searching her name in artistsspace.org.
Contact:
leejgough@gmail.com
Hanging Gardens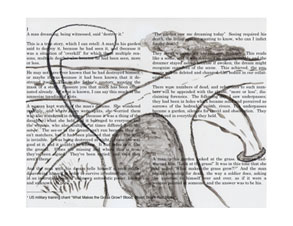 Public Pages. All work remains copyright of the artist.