Julie Caves paints, makes her artists' books and plans her projects out of her light-filled studio at the Chocolate Factory N16 in North East London. She works in a number of mediums and methods as some ideas must be painted and some must be performed. Her abstract paintings show her love of paint and begin with colour and then create a space for the viewer to go into, sometimes looking like a landscape under a microscope.
Her figurative work tries to puzzle out the different ways she see everything, her artists' books are often visual lists and her interventions try to make contact with other humans.
She began her art studies in California in 1989, studied art in Spain, received her BFA in Studio Art (Sculpture and Printmaking) in Texas, and her MA in Bookarts from Camberwell College of Arts in London. She has participated in exhibitions in the US, Spain, Korea, the Netherlands, the Czech Republic and the UK.
In this project I distribute flyers as tiny gifts of a moment of cheerful confusion. In January 2004 an assortment of the flyers covering a variety of issues began trickling into London, appearing like breadcrumbs left on bus, train, and tube seats. Sometimes I also passed them out by hand in front of stations. Later I tried paper pouches that said, 'Free, please take one', attached to lamp posts.
The 50% Happier flyer was the first one and is still my favourite. Another says: 'A national study has concluded that we are 18% more intelligent than was previously thought.' And another: 'In a recent national newspaper survey 75% of women claimed to be happy with their height.'
I made a booklet with documentary photos and with images of all the flyers so far. It is an ongoing project. I call the project 'Have a Nice Day'.
Contact:
julie_caves@yahoo.co.uk
juliecaves.moonfruit.com
50 per cent happier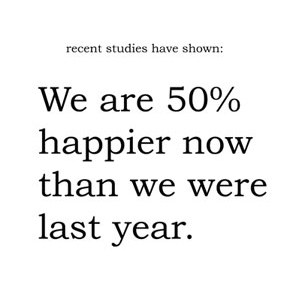 Public Pages. All work remains copyright of the artist.