Jos Smith was born just outside Canterbury in Kent where he first began writing, drawing on the landscape of the North Downs. In 2005 he situated a number of large poems on sign-boards along the North Downs Way in an exhibition funded by the Arts Council and the Kentish Stour Countyside Project, from which these images are taken. He studied English at the University of Nottingham and has continued into postgraduate study, looking at the ways in which contemporary poetry is addressing the ecological crisis. He continues to endeavour to write poetry that breaches the lines between subject and object, landscape and poetic form, environment and the printed page.
Contact:
aexjjs@nottingham.ac.uk
For a moment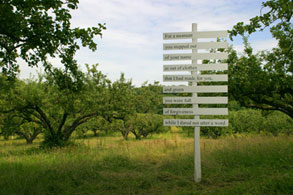 Public Pages. All work remains copyright of the artist.