John Hall is a page-based and visual poet, teacher and essayist. He has worked for many years at Dartington College of Arts, where he was one of the founders of 'performance writing'.
Else Here: Selected Poems came out from etruscan books in 1999; Apricot Pages, 'a brief textual adventure', from Reality Street in 2006. Couldn't You?, a new collection of poems, will appear from Shearsman Books by the end of 2007. Other of his visual poems can be seen at shearsman.com and archiveofthenow.org and an extended set of visually treated variations called Changing Lines is up at greatworks.org.uk.
Many of his visual poems have been made in relation to the inscribed and framed 'languages' of domestic space, a zone of exchange which can be taken to trouble any over simplified idea of a distinction between public and private in the matter of language.
Contact:
jdhh@brookmill.freeserve.co.uk
johnhallpoet.org.uk
A Private Grace
With thanks to Kelvin Corcoran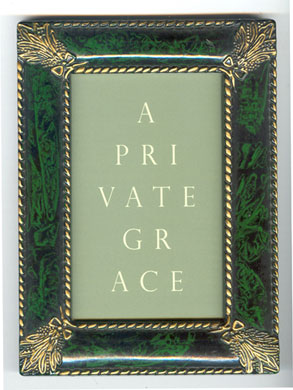 Public Pages. All work remains copyright of the artist.