Emmanuelle Waeckerle's interdisciplinary practice evolves between sound language and the body, exploring their performative intersections.
Working across performance, installation, book form and digital media, she is concerned with the relationship between body and identity, voice and communication. She is currently operating on the edges of Language, trying to go beyond the word aurally and visually, and exploring the body as language.
Emmanuelle is French, born and brought up in Morocco. Based in London for the past 20 years, she exhibits and performs regularly both nationally and internationally. She is also a senior lecturer in visual communication at University College of the Creative Arts in Farnham.
As Derrida terms the 'undecidables', the neither/nor, Emmanuelle is an 'undecidable', always in between - countries, communities, languages, minds, moods and mediums.
Contact:
moi@ewaeckerle.com
I Confessed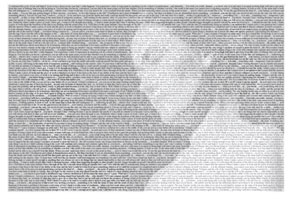 Public Pages. All work remains copyright of the artist.