Debbie Booth studied Fine Art BA(Hons) at Middlesex University and completed her MA in Fine Art at Goldsmiths College. Past exhibitions include Artfutures, a series of exhibitions at the Centre for Freudian Analysis & Research (CFAR) curated by Sharon Kivland, Sali Gia, bookartbooks and Lounge. Forthcoming exhibitions include Close at Hand at Contemporary Art Projects. Curatorial projects include Brownfield (Lounge and mac, Birmingham) and Wintry (Lounge, autumn 2007).
Working with single editions of the London Review of Books to create each text collage, Debbie Booth isolates words and phrases, and recombines them to create texts which subvert the law of language, its authorities and pretensions. The created texts are variously playful, humorous and starkly intense.
Contact:
lurcher1@onetel.com
smilinglyxcluded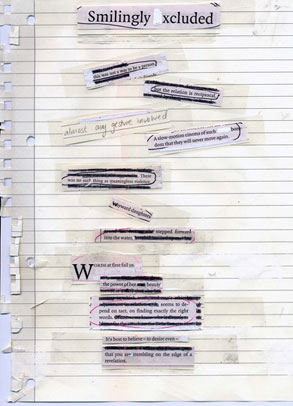 Public Pages. All work remains copyright of the artist.