Dave Reeves is a freelance writer, performer and editor. He regularly works with communities on writing projects and creates publications from these residencies. The latest of these is 'Ballads for Bomere Heath', an exploration of a parish in Shropshire, which can be found at bomereheathballads.co.uk.
In 'poetryreeding' he performs his own writing with self-accompaniment on free-reed instruments; he also works in the duo The Whirled Service with musician/composer Tom Cook. Dave's writing has been commissioned and carved into public art sculpture and for 40 plus panes of the new West Bromwich Bus Station; his BBC commissions include a poem for the 35th anniversary of the opening of Spaghetti Junction. He edits Raw Edge Magazine, the free literary magazine in the West Midlands, and is involved in the internet radio station Radio Wildfire.
Further details of his work can be found at textician.co.uk.
Contact:
reeverse@zoom.co.uk
THE LOVES OF SHITHEADS 2000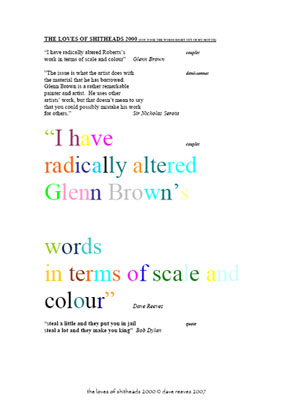 Public Pages. All work remains copyright of the artist.