I was born in Istanbul, Turkey, in 1979 and graduated from Istanbul Medical Faculty in 2005. In the same year my first visual poem was published in Zinhar magazine. Since then, my visual poems have taken place in Zinhar Galeri, which is the only visual and concrete poetry blog in Turkish. My work has also appeared in the third and fourth issue of Otoliths magazine and in nokturno.org with Finnish textual information. Some of the visual poems that were published in Otoliths were exhibited in Platforma (an exhibition for Visual Poetry of Asia) in December, 2006. Lastly, my vispos have taken place in the second issue of Monokl magazine in February 2007.
Contact:
aysegultozeren@gmail.com
the-otolith.blogspot.com
istifa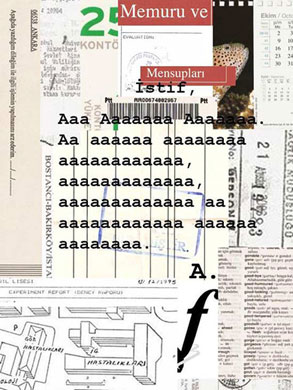 Public Pages. All work remains copyright of the artist.