I asked people to complete the sentence 'Faith is ...' and began to merge the texts into symbols that represent different faiths. Primarily these were religious symbols, but they could have easily been a symbol for a hairdryer or a street sign. I discovered that when Faith was mentioned people tend to think of religion and some vehemently rally against it. Others find their Faith from within themselves and do not associate it with religion or with God.
Is Faith in God different from Faith in oneself? Is Faith in religion Faith in God? If I pray, am I praying to God or my soul, my strength, my conviction? Nothing is ever black or white - it is both. Faith is ...? It is not such an easy question to answer since it raises more than just a question of Faith.
Contact:
anna_wilkins_heeps@hotmail.com
yanyinfaith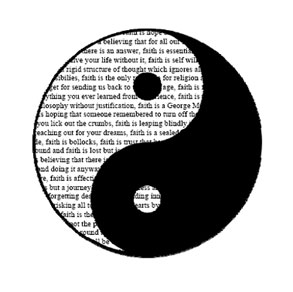 Public Pages. All work remains copyright of the artist.