Amy is both a conceptual artist and a theatre maker. Her investigation into performance has expanded into the performativity of text, object and image drawing from notions of archive, documentation and re-performance. Depending on what mood she is in, she likes to play with film, photography and makes things for people to look at. Occasionally she likes to write.
Amy is also the Director of The Museum of Modern Art: Department of Refiguration, which recently opened with the exhibition, Refiguring Broodthaers. The film La Pluie: projet pour un texte (2006) featured in the exhibition.
Contact:
vesperwalk@yahoo.com
To Cut a Sorry Figure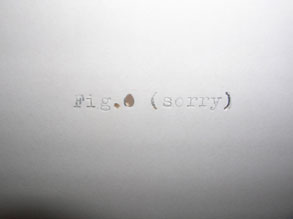 Public Pages. All work remains copyright of the artist.