Alan Halsey was born in London in 1949. He ran The Poetry Bookshop in Hay-on-Wye from 1979 to 1996. He now lives in Sheffield. Marginalien (Five Seasons 2005) is a collection of his poetry, prose and graphics 1988-2004; Not Everything Remotely (Salt 2006) is a selection of his poems. Since the mid 1990s he has been engaged in various collaborative works, including Fit To Print with Karen Mac Cormack and Days of '49 with Gavin Selerie.
Much of his recent work has been text-graphic: Dante's Barber Shop is a 'film treatment' of 'De Vulgari Eloquentia', and Memory Screen was exhibited at the Bury Text Festival in 2005. He provided graphic interventions for Tony Baker's translation of Blaise Cendrars' Prose of the Trans-siberian. Quaoar (West House 2006) records in poetry and graphics his journey to the twelfth planet with Ralph Hawkins and Kelvin Corcoran. A collaboration with Steve McCaffery, Paradigm of the Tinctures, recently appeared from Granary Books.
Contact:
a.halsey@westhousebooks.co.uk
westhousebooks.co.uk
After Auden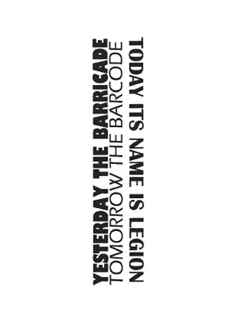 Public Pages. All work remains copyright of the artist.