Writer in Residence goes Underground for Innovative Writing Project
28 February 2017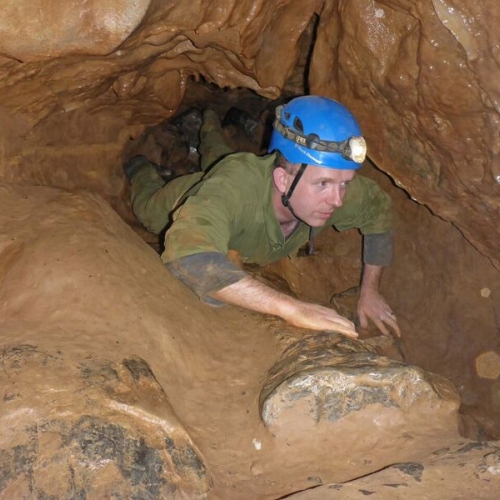 You'll have heard of authors going undercover for inspiration but our current Writer in Residence, Wyl Menmuir, has gone further by going underground!
Wyl, who is giving a free public lecture at our Penryn Campus this week (Wednesday 1 March), went up to Cheddar Gorge in Somerset as part of an innovative publishing collaboration between Falmouth and the National Trust.
The writer, whose novel The Many was longlisted for the Man Booker prize, used the trip to push himself to the limit for inspiration for the project. He said: "We abseiled down the centre of a cave and then went on a multi-pitch caving expedition, which mainly involved pushing ourselves through cracks in the rock, climbing, scrambling and generally getting covered in clay in caves that had names like Far Rift and the Mushroom Chamber.
"We got to the bottom of the Bottomless Pit, made our way head first through the Letterbox and spent some time in The Coffin, which is pretty much what it sounds like."
The adventure was part of Wyl's work writing new material while Writer in Residence. This will be published by the National Trust, launched at the South West Outdoor Festival (SWOF) in September, and stocked in National Trust bookshops.
He added: "The idea was to see if doing something that took me out of my comfort zone would prove inspiring for the piece I'm writing which it was, not only the discomfort and excitement of the caving, but the history of the caves and Cheddar Gorge itself. You'll have to wait for the book to see!"
Falmouth students will bring the manuscript to publication, following the process from creation to marketing and sale. The project is the first time the National Trust has worked with a university in this way and chose Falmouth because of its interest in nature and the landscape as creative inspiration and its focus on getting students work experience to give them a head start in the jobs market.
Dr Niamh Downing, Head of English & Writing, said: "As Writer in Residence Wyl will be taking his writing workshops out into the local landscape, which is a really exciting way for our students to learn more about the process and practice of writing."
SWOF takes place in Cheddar and the Mendips on 8-10 September and includes organised challenges such as trail-running races, mountain biking and road riding, rock climbing, caving, guided walks, paddle sports, archery and many other small-group activities.
Katie Bond, Publisher at the National Trust, said: "Great writing about nature and the outdoors encourages people's love of and engagement with the natural world which is at the heart of what we do. We are delighted to be working with the English students and staff at Falmouth on such an exciting publishing project."