VFX Professionals Share Secrets
8 March 2018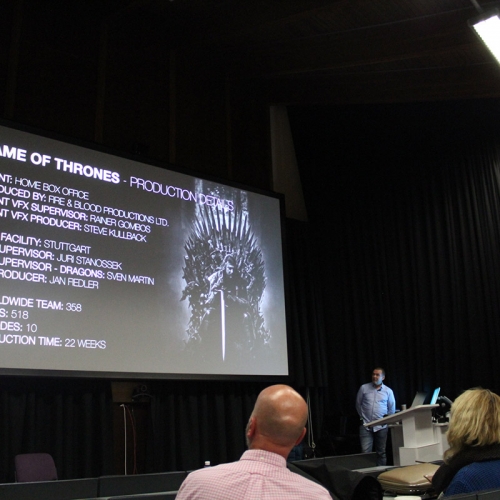 The School of Film & Television recently welcomed two leading figures in animation - Aardman's Head of 3D Ben Toogood and Game of Thrones VFX Coordinator Juri Stanossek, to campus.
It was a great opportunity for students to get an insight into the industry, from leading professionals who have worked on some of the most influential projects from the small and big screens.
Ben spoke to students about the purpose of visual effects, the difference between visual and special effects, and colour management. He demonstrated the workflow required for an animator working on feature films and television commercials, as well as an in-depth look at colour management.
Juri demonstrated his expertise and experience within the industry by show reeling the projects he has worked on during his career, from TV series such as Gotthard and Game of Thrones to adverts for Porsche.
Animation student Benedict Harland said that it was not only inspiring, they were also able to pick up some tips, "Juri's work on a Porsche commercial where he stitched the road together, which could not be seen behind the car, to create a seamless effect was amazing to see.
"Ben's introduction of ACEs colour mode was really interesting, as person who works in 3D and live action assets, it would make the compositing of them a lot easier for me and others working on it."
The students were also treated to insights from one of Juri's more famous projects, the step-by-step creation of the shadow creature and dragons that were featured in season two of Game of Thrones. These VFX feats won Juri an Emmy for Outstanding Visual Effects in 2012, as Game of Thrones started to become an international phenomenon.
Find out more about the Animation course.