Unmasking Frank Sidebottom
12 March 2018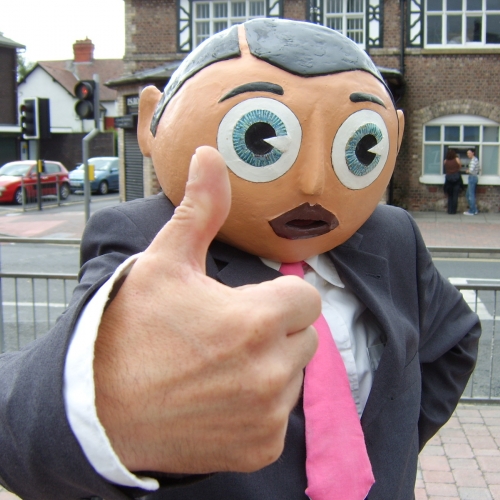 A documentary about one of Britain's most eccentric performers will receive its world premiere at prestigious American film festival SXSW this week.
Professor Christopher Morris, Director of the School of Film & Television, has been working for the last five years with filmmaker Steve Sullivan on Being Frank: The Chris Sievey Story. The documentary explores the extraordinary secret life of artist Chris Sievey, best known as his alter ego Frank Sidebottom, the maverick comedian with a papier-mâché head.
He was the court jester of the Manchester music and comedy scene for over 25 years, but only a privileged few knew the man inside. Being Frank is a tale of split personalities - a suburban superhero consumed by his alter ego.
"When Chris died of cancer in 2010, his belongings, his entire archive and even his 'heads' were rescued from a skip," explains Morris, "this is Steve's first feature documentary so he came to me for advice and I was (willingly) sucked into the wonderful, creative madness that followed. Thousands of hours of VHS and Super8 footage was found, countless images, handwritten books, drawings, clothes and heads were painstakingly reassembled, viewed and catalogued."
The film includes interviews with Jonny Vegas, Jon Ronson, John Cooper Clarke, Ross Noble and Mark Radcliffe.
Morris recalls that, "there was so much extraordinary material the first full-length cut of the film was over 17 hours long! I worked closely with Steve as the story consultant, wrestling this film to the ground. It has been one of the great privileges of my career and I'm so proud of the final film Steve has produced.
"The film came to Falmouth last month where our skilled Senior Technicians gave it a full picture grade in our world-class facility ready for its world premiere at SXSW."
Being Frank: The Chris Sievey Story will premiere at SXSW on 13 March.
Initial funding for the film came from 3,000 enthusiastic Frank fans, pledging thousands online through crowd funding, with further production finance from Film Cymru Wales and support from 104 Films and Fat Controller Management Ltd.
Find out more about our School of Film & Television