Students Showcase their Event Management Skills
30 November 2017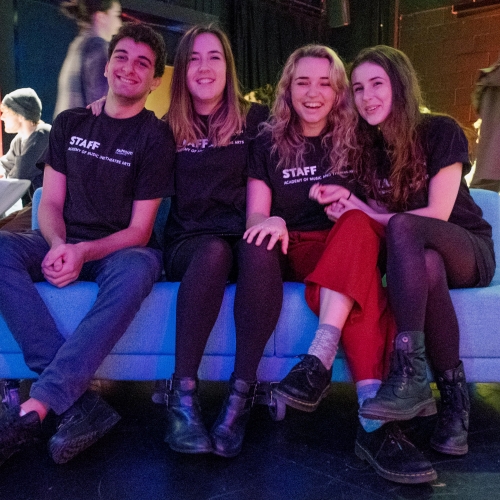 Second-year Creative Events Management students have successfully completed a range of assessed events at our Academy of Music and Theatre Arts (AMATA) as part of their course.
Students worked in groups to design, plan and deliver every aspect of their event.
Matt Kirby, Course Coordinator, said: "By running their own live events our students gain great rewards and go through a very steep learning curve; the process really tests their patience, diligence and organisational skills."
Events included:
Nostalgia: Old School hits and 00's TV classics to raise money for Dementia UK
SeaSense - A sensory yoga and meditation event, incorporating light, sound, and relaxation to take attendees on a calming journey, with a session on sea saftey fro the RNLI
Behind Screen Productions introduce ESC - An on-screen themed Escape Room event
Red Velvet Presents: Jazz, Wine & Cheese - An evening of pleasure to transport you back in time to the true jazz era of the 1920's with Majestic Wines
White Noise Presents: Flare - A multi-arts event celebrating the culture of the 1970s through live music, dance and fashion
Cirque De Terror - A fully immersive and thrilling circus horror maze experience to shock the senses
Booth Drive - screening a recent successful film indoors whilst incorporating an American 50's style drive thru theme
Fal TLoose - the best barn dance in Falmouth inspired by the iconic film Footloose
Head of Subject Adrian Bossey said: "All of our students are assessed on their ability to devise and deliver three live events during their studies at Falmouth. This distinctive feature of our highly rated course is fun to deliver and enhances employability skills."