Students Put Event Skills to the Test
11 May 2017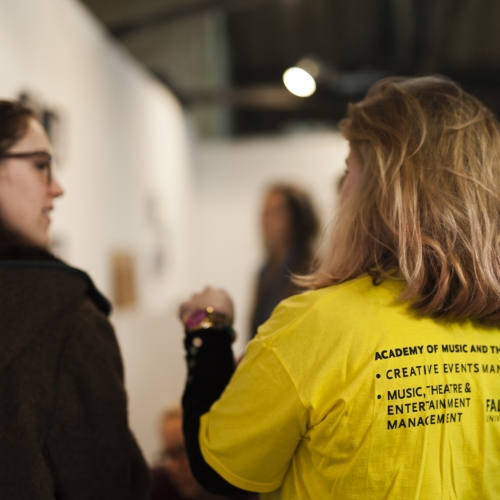 Second year Creative Events Management students have successfully completed a range of assessed events in and around Falmouth and Penryn as part of their course.
Students must design, plan and deliver every aspect of their event and manage the whole process from assessing concept feasibility, to analysing risks, ensuring financial viability, generating marketing content and then leading on the operational aspects of the event itself.
Senior Lecturer Paul Russell said: "By running their own live events students gain great rewards and go through a very steep learning curve; the process really tests their patience, diligence and organisational skills – and is also very enjoyable."
This year's events included:
Where on Earth – A travel-themed event to celebrate the multiculturalism of Falmouth and the surrounding area.
The Fourth Phase Outdoor Film Screening - A breath-taking, inspirational documentary following iconic snowboarder Travis Rice and friends as they push the possibilities of snowboarding to new heights.
Kaleidoscopic Developing Room – a psychedelic photography exhibition held at a Falmouth bar - 5 Below.
Taboo - an interactive exhibition encompassing a number of different art forms including film, photography and fine art.
Society Slam Down - An interactive and immersive quiz that enabled all Students' Union societies to come together.
Southwestern Distillery Promotional Video Shoot - In collaboration with local gin and pastis producers - Southwestern Distillery, students organised a promotional video shoot around a garden party theme. The video will be used on social media platforms and at future events that Southwestern Distillery will attend.
Cowspiracy Screening at The Poly, Falmouth – Billed as 'the film that environmental organisations don't want you to see', this feature-length environmental documentary uncovers the secrets of the most destructive industry facing the planet today – animal agriculture.
The Spill – an evening social event held at the Falmouth Watersports Centre to raise awareness of the Surfers Against Sewage Big Spring Beach Clean.