Student Mentors Celebrated
10 May 2017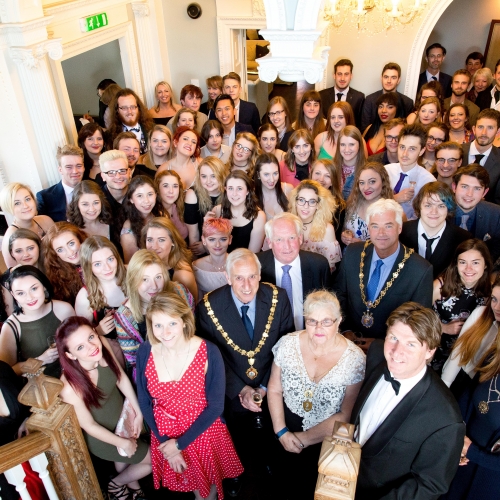 The achievements of Student Mentors were celebrated recently at a glamorous awards ceremony at the Merchants Manor in Falmouth.
The evening was an opportunity to recognise and celebrate the valuable work that the Student Mentors do as volunteers – giving 10,000 hours every year. The team of 250 Student Mentors make a huge contribution towards ensuring that incoming students feel welcomed and supported as they join the Falmouth University community.
Their outstanding contribution has been demonstrated this year by over 60 Mentors achieving higher level Awards of Excellence through Bronze, Silver and Gold Awards. We are proud to have such proactive and professional Mentors who have developed and maintained such positive mentoring relationships.
The Student Mentor Team said: "It was fantastic to be able to treat our wonderful Student Mentors. They have volunteered so much time over the year and received some well-deserved recognition from University leadership, the local community, and most importantly their junior colleagues who have benefited so very much from their generosity and good will throughout their first year at Falmouth."
Award winners:
Community Engagement Award - Cake, Make and Shake project at Falmouth Age Concern centre - Ellen Evans, Aimée Fish, Evelyn Gascoin, Elitsa Nedyalkova, Ella Riley, Amanda Stave and Chloe Williams
Staff Support Award - The Living Support team - Keith Hawksworth, Michelle Lewis and Amy Pope
Against All Odds - The Fine Art team
Outstanding Team Award (x3) - Illustration, Music, Sustainable Product Design
Special Awards - Aimée Fish, Ella Riley, Sam Constable