Staff Excellence Awards 2017
23 November 2017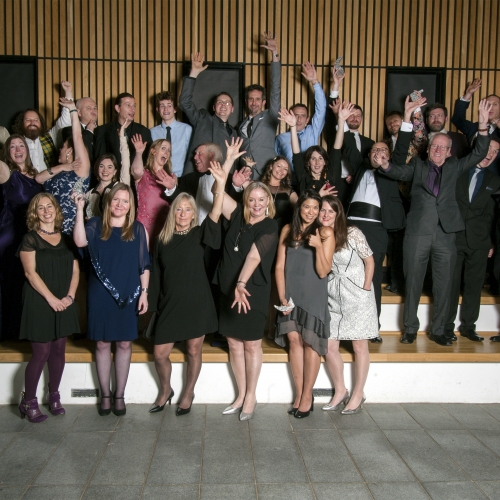 The annual Staff Excellence Awards are an opportunity to thank those that make an outstanding contribution to life at Falmouth.
2017 has been a fantastic year. The University was awarded TEF gold, ranked 6th in the UK for student experience, and our staff and students achieved amazing things - from international awards, to stunning exhibitions, exciting new partnerships and publications.
For the first time, the awards were held on campus, at the new Courtyard building, which had been transformed for the occasion.
Professor Anne Carlisle, Vice-Chancellor said: "The talent and hard work across the University is truly impressive and makes me very proud. After judging the shortlists, I and the rest of the judging panel leave with huge smiles. It's invigorating to see the dedication, drive and commitment that runs through Falmouth.
"The Awards are a wonderful way to recognise the effort and achievements of our colleagues and to thank them for everything they do in our academic departments, in the Student Services teams and providing all the services that keep our campuses running brilliantly."
Award winners:
Service Excellence - FX Plus Caretaking Team
Outstanding Student Experience - The Living Support Team
Outstanding Innovation or Research - Tanya Kryzwinska, Director of The Games Academy
Outstanding University-Industry Partnership - Songbird Team
Internal Collaboration of the Year - The SoFT/AMATA Collaboration Team
External Collaboration of the Year - National Trust Publishing Project
Cornish Initiative of the Year - Simon Birch, Course Coordinator: BA Choreography
Manager of the Year - Simon Court, Head of Sports & Recreation Services
Rising Star - Danielle Barrios-O'Neill, Course Coordinator: BA English & Writing
Unsung Hero - Natasha Michell, Vice-Chancellor's Project Officer
Outstanding Team - The Accommodation Team
Most Inspirational Member of Staff (nominated by students) - Simon Andrews, Senior Lecturer: BA Sustainable Product Design