Soaring on Songbird
23 January 2018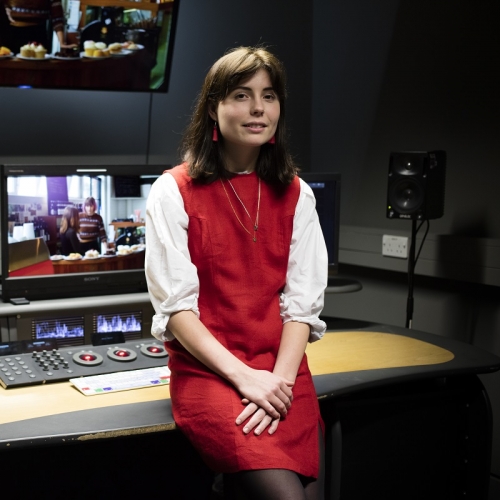 It's not everyday you find yourself sitting in a shed, set in a farmer's field close to Falmouth, next to film royalty.
For Film student, Rosie Bewley, it became an everyday occurrence during her second year at Falmouth, after being invited to take up an assistant editor role on Songbird, the latest film from director and writer, Jamie Adams, funded by Falmouth University.
On the first day she was involved in the shoot she sat down next to Jessica Hynes (Harry Potter, Shaun of the Dead, Spaced) and opposite her was Cobie Smulders (Avengers, Captain America). She quickly found herself getting an unprecedented insight into how the industry works and the roles everyone plays in making a film.
"I almost didn't apply to do it," she says. "One of the great things about studying Film at Falmouth is the opportunities we're given but I'd always been too shy to put myself forward. I can remember when I decided to do it, it was right at the last minute, I was having a milkshake with a friend and thought, what have I got to lose?"
It turned out to be a great decision. After applying, Rosie had an interview with the director and, on being asked to take up an assistant editor role, found herself working side by side with him for two months. But it didn't end there.
"As well as the editing, I got lots of experience on set and had my lunch with the crew. I even got to go to the Berlin Film Festival with them and I've got an IMDb profile now," Rosie adds.
Despite being offered further work with the same director after completing her time on Songbird, Rosie has instead opted to concentrate on her final year at university where she is creating an experimental film installation designed to promote health and wellbeing through colour and sound.
She mixes up her time creating this immersive experience with coastal walks, bonfires on the beach and soaking in the best of what Falmouth has to offer.
Find out more about BA(Hons) Film.