Music Students Collaborating on Cornish Folk Album
16 March 2017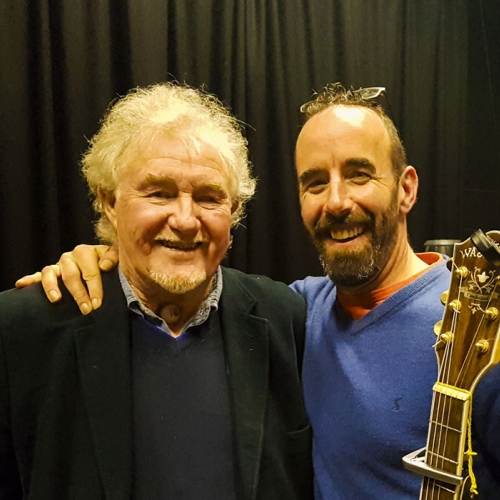 Students from our Academy of Music and Theatre Arts (AMATA) are working with a local musician to help produce an album inspired by the work of Cornish folk legend, Harry Glasson.
Will Keating, singer/musician and member of popular Falmouth-based group The Oggymen, is the driving force behind the project. Last year Will took the decision to tour as a soloist, accompanied by just his acoustic guitar and stomp box. Totally inspired by Cornwall and the songs written by Harry Glasson he decided to produce an album in tribute to his great friend and mentor.
Will explained: "Harry's songs are sung throughout Cornwall, probably the most popular being the anthemic, Cornwall My Home, but many people are unaware of the writer. I thought it would be great to record an album of these folk songs written by Harry, that tell the tale of Cornwall's rich history and culture in the hope of inspiring the younger generation to keep singing them.
"Myself and Harry did a lunchtime concert to the Popular Music and Creative Music Technology students. We then asked if anyone would like to help with the project and we were overwhelmed with the response. Students are involved in the recording process and future live performances, one of the tracks on the album will be made solely of student musicians, and we are fortunate enough to be able to use the fantastic facilities on offer at AMATA"
Will plans to produce a songbook alongside the album, which will be distributed to the county's primary schools, and tour a live show throughout Cornwall and beyond. As well as Falmouth students he is also involving many local musicians including Helston Town Band, the Truro High School for Girls Choir, local producer Brendan McGreal and of course The Oggymen.
Harry Glasson was born in 1951 near Praze-An-Beeble. He started writing poems and Cornish dialect verse, which quickly progressed to putting the words he had written to music. Harry gigged around Cornwall for over 30 years and toured the USA several times between 1998 and 2008, building up a legion of fans from all over the world. In July 2009 he was diagnosed with Cancer of the vocal chords, which resulted in his vocal chords being removed. Harry will still occasionally get up and play a few songs on his guitar and sing, with the aid of a valve.
Visit TruthFal, a news site by our Journalism and Writing students, to find out more on the project.