Lecturer Nominated for Coveted Photography Award
8 March 2018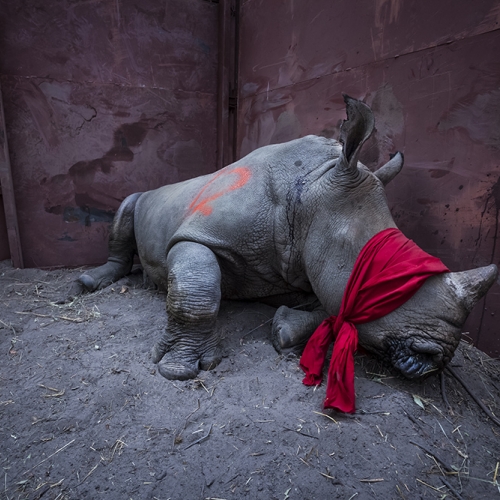 Neil Aldridge has been announced amongst the nominees of the World Press Photo Contest 2018 - one of the world's most prestigious and respected awards for photojournalism.
Neil is a conservation photographer and an Associate Lecturer in Marine & Natural History Photography. His photograph, Waiting for Freedom, of a young rhino in Botswana is in the running to pick up the coveted award in the competition's Environment Category in Amsterdam in April.
Neil's photograph shows a young white rhino, blindfolded and partially drugged after being saved from a poaching hotspot in South Africa and moved to the safety of Botswana. The image is part of Neil's story, The Return of the Rhino, which was also recently shortlisted in the Sony World Photography Awards.
Neil explained: "I've dedicated much of the last five years to rhino conservation and to photographing stories of hope against the backdrop of the global rhino poaching crisis. I work as part of the Rhino Conservation Botswana team and have also joined vets saving the lives of rhino orphans, anti-poaching teams keeping rhinos safe, dog trainers preparing dogs to tackle poachers and teachers engaging the next generation of rhino guardians in schools."
Neil is a published author and a professional wildlife guide. His photography has won awards all over the world, including the overall title of European Wildlife Photographer of the Year. Based in both the UK and Africa, Neil focuses his efforts on creating images and stories that increase our understanding and awareness of conservation issues, and that inspire change. Find out more about Neil's work on his website.