Graduates Nominated for RTS Student Television Award
2 June 2017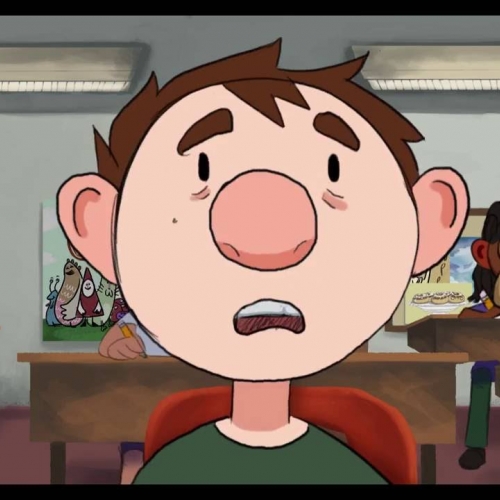 Two Falmouth graduates are amongst the nominees at the Royal Television Society (RTS) Student Television Awards 2017.
Mads Ogaard and Katie Wyman's animation, I Am Dyslexic, is up for best Undergraduate Animation.
Andy Joule, Head of Animation & VFX, said: "The news that Mads and Katie have been nominated for another award is simply fantastic. Their graduation film, I am Dyslexic, produced on the Animation & Visual Effects course has been critically received since its release last year. The fact that it has made its way to the national finals at the RTS is a testament to their hard work and the outstanding quality of their work. This nomination comes on the back of the pair winning the Best Animation award at the regional finals recently alongside winning Best Animation at the Oxford International Film Festival, a special mention at the Manchester Film Festival and screenings at countless festivals around the world.
"The film, which poignantly highlights Mads' own struggle with dyslexia has become so successful that it is now an illustrated book. Co-director Mads has also been invited to lecture on working with dyslexia. We are immensely proud of all that this talented pair have achieved in such a short time and look forward to charting their careers in the years to come."
Chaired by Philip Edgar-Jones, Director of Sky Arts, the awards recognise the best audiovisual work created by students across the UK and Republic of Ireland at undergraduate and postgraduate level. Awards are judged in six categories – Animation, Comedy & Entertainment, Drama, Factual, News and Short Feature. The winners will be announced at a ceremony on Friday 16 June at the BFI Southbank.
Visit the course page to find out more about Animation & Visual Effects at Falmouth.