Graduates Design Success
9 February 2018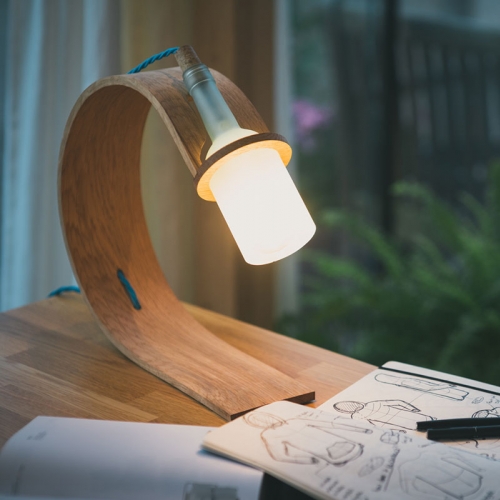 Sustainable Product Design graduates have launched an innovative sustainable lamp thanks to a successful Kickstarter campaign.
Quercus, first designed by Max Ashford whilst he was a student, is intended to be a product with an entirely sustainable lifecycle, from sourcing to disposal. Made out of recycled waste, including naturally fallen oak for the body and a wine bottle for the lampshade, all of the parts can be easily disassembled into constituent parts, driving design thinking towards a sustainable circular economy.
Max explained: "Having teamed up with some other Falmouth graduates, Lewis Gillingham and Harry Ingrams, we set about with branding. Outlining what we aimed to achieve and developing Quercus, and our company greeb, to how we wanted them.
"To achieve our Kickstarter goal is superb and to start our journey is truly exciting. It's incredible after so much work to get things rolling and see physical developments."
Sustainability is the driving force behind greeb, a design studio that aims to improve the world by creating products that have a positive impact on the enviroment.
Quercus is the company's first product, and the very first lamps are being sent out to the Kickstarter backers as gifts. Max is hoping to push the brand to retailers, and to collaborate with artists on some limited-edition lamps.
In terms of the future, Max stated: "This is just the beginning, we are working towards pushing sustainable design forward and we have lots of ideas. We want to improve the world by producing objects that have a beneficial impact on the environment rather than a damaging one."
To learn more about the project visit the Kickstarter page, or the greeb website.