Catching Up with Summer Intensives Participants
19 April 2017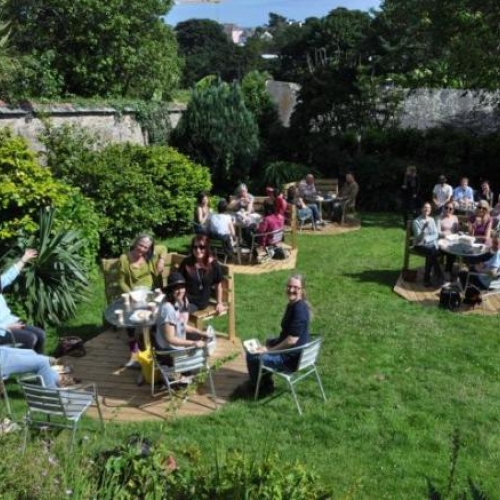 Falmouth School of Art is currently accepting applications for its summer Intensives - short studio-based courses for artists and art educators. We're always bowled over by feedback from participants at the end of their week with us but we have just caught up with some of 2016's participants to ask them to reflect on their experience nine months on...
Abstract Painting participant Gwenyth Fugard highlighted the benefit she had felt of being among a group of artists for the week, having worked alone for three years since graduating. She also experienced a development in her way of working as a result of the environment and structure of the course: "Though my own practice does not respond to abstracting from life, I found the projects set were hugely beneficial. I was taken away from my usual methodologies and the studio spaces provided were fantastic [and] enabled new approaches and ideas to develop quite quickly."
After finishing the Intensive last summer, Gwyneth successfully applied for a place on an MA at City & Guilds London Arts School.
Wales-based artist Karina Barrett, who took the Figure Painting course, similarly valued the experience of community that shaped the Intensive week: "I enjoyed working in a studio with other artists – something I have not done since graduating. I found the tuition to be of the highest standard and incredibly informative. As a professional working painter, I gained a lot from the advice given to me by both Jesse [Leroy Smith] and Ashley [Hold]."
Amanda Jackson chose the Abstract Painting Intensive in order to develop her mostly figurative practice in a more abstract direction, and the course made such an impression that she will be joining us again this year: "It gave me many ideas and processes, through tuition, critique and lectures, to set this development in motion. Almost a year on, I have continued the work started in Falmouth, enjoying pushing my work ever further into abstraction. I have found that since the course, my work is much looser; I spend more time developing the work through direct painting –exploring ideas on the canvas and seeing where it might lead – rather than planning and replicating."
For many, the Intensives have provided the opportunity to work differently than they would have in their own home or studio environment, with learning and experiences that have lingered and resonated in their continued studio practice.
For more information or to apply for this year's Intensives in Abstract Painting, Figure Painting and Observational Drawing, visit the Falmouth School of Art Intensives webpage.