BAFTA Nominee Shares Expertise
9 February 2017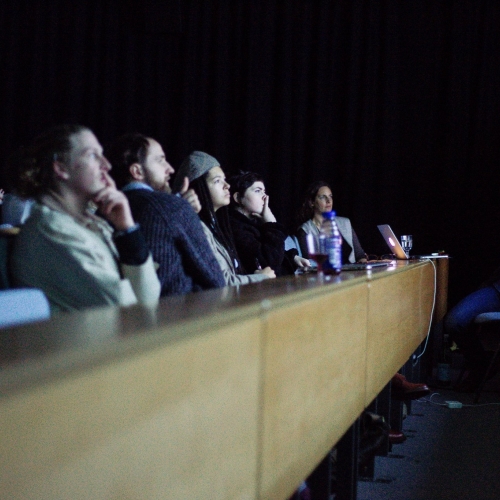 School of Film & Television students were recently treated to an exclusive audience with BAFTA nominee and director of massive TV hits including Black Mirror and Dr Who, James Hawes.
James visited the School to talk to final year students about their work and career aspirations.
At an intimate Q&A session, Television undergraduates had the opportunity to ask James about his inspiration, collaboration and approach. James also shared advice and expertise gained from over twenty years' experience in high-end drama productions.
James said: "It was thrilling to visit Falmouth and to discover the passion and enthusiasm among the students. I grew up in Constantine, and have known the Tremough site since it was a school. It is fantastic to see the creative hub it has become, and to see how much Falmouth has to offer its students. Television is in its platinum era with much of the best programming in the world being made in Britain. The industry needs fresh, inventive, ambitious talent - like these students - to build the future of one of Britain's most successful global industries."
Head of Television, Faye, said "Speaking to such an accomplished director, who has produced really iconic TV, was an incredible experience for the students; the many who had seen James' unforgettable Dr Who episode, 'The Empty Child' were deeply affected by it, ever highlighting the power of television to shape our world. To share a space with the person behind this and so much more was a great gift to us all.
"It's these kinds of industry connections that we foster at Falmouth, in order to give our students meaningful insight into the world of work and to help them prepare for life after graduation."
James has been involved in the production of some of the best of British television and has worked with some of the country's biggest talent, directing stars including Helena Bonham-Carter, David Tennant and Matthew MacFadyen. Most recently he's been directing Geoffrey Rush in the upcoming series, Genius, about the life and legacy of Albert Einstein.
Visit the School of Film & Television webpage to find out about our courses.