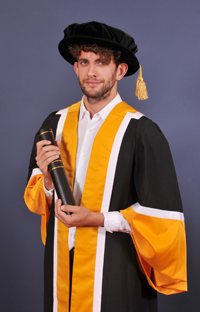 Fellow
Falmouth University is proud to recognise the outstanding contribution Alex Turvey has made to film directing and visual arts, and was delighted to award him a Fellowship in 2014.
Alex completed a Foundation in 2001 and a degree in Graphic Design at Falmouth, graduating in 2005. Before graduation Alex won a commission for Channel 4 to produce a short promotional film, sparking his career and interest in moving image. He is now an independent creative director, blurring the boundaries between graphic design, moving image, fashion, advertising and installation work for a host of major global brands. He is hailed as one of London's 'top fashion creatives' by Business of Fashion journal and is listed as one of the 'fifteen creatives who will define the future of British Arts' by the Independent.
Alex has won numerous awards including Best Cinematography and Best Fashion at Berlin Fashion Film Festival in July 2013. He has directed many music videos for leading artists and produced in-store installations for big names such as Nike, Hollow Earth and Levi's.
His promotional films have been screened at festivals around the world including Berlin Fashion Film Festival 2013; London Fashion Week 2013; Pompidou Centre, Paris 2012; Cut Out Fest, Mexico 2011; Fash/on Film, Shanghai 2012; Film fest, New York, 2011; the Cannes Film Festival 2007 and the BBC Electric Proms 2006. Alex lives in London and has agent representation in the UK, France and the USA. He has been a jury member of D&AD and is currently developing his debut feature film.
External links