From self-contained apartments with sea views to ensuite rooms within shared flats, we offer a wide range of accommodation choices. Here's an overview of our on and off-campus options. For more information and advice on how to apply, get in touch with the Accommodation Office or see our Accommodation Guide below. 
Falmouth
Maritime Studios
Perched above Falmouth's world famous docks and marina, this contemporary studio accommodation is perfectly located for exploring the town and beaches, walking to Falmouth Campus or getting public transport to Penryn Campus and beyond. The single occupancy self contained studio apartments also share a large communal garden/BBQ area with spectacular panoramic sea views.
Tuke House
Right at the heart of Falmouth you'll find Tuke House, a cluster of 11 three storey buildings set around a communal courtyard. Ideal for those who want to live a stone's throw from the town's shops, bars and beaches, and just a short walk from the Falmouth Campus, the accommodation comprises of 156 rooms divided into flats of five en-suite bedrooms with a single bed and shared kitchen area.
Penryn
The Sidings 
Just a short walk from the Penryn Campus and the town itself, The Sidings provides contemporary student accommodation for 233 students. From single occupancy ensuites within shared flats to self contained studios, the accommodation comes fully furnished.
Glasney Student Village
Situated on the grounds of Penryn Campus, Glasney Student Village is home to over 1800 students. Residents enjoy views of Falmouth and Penryn, the sea and the surrounding countryside; a host of on-campus facilities, including a gym, refectory, cafes and a bar, a live events venue, shop and Accommodation and Student Support Services; and spacious ensuite rooms.
Packsaddle Hill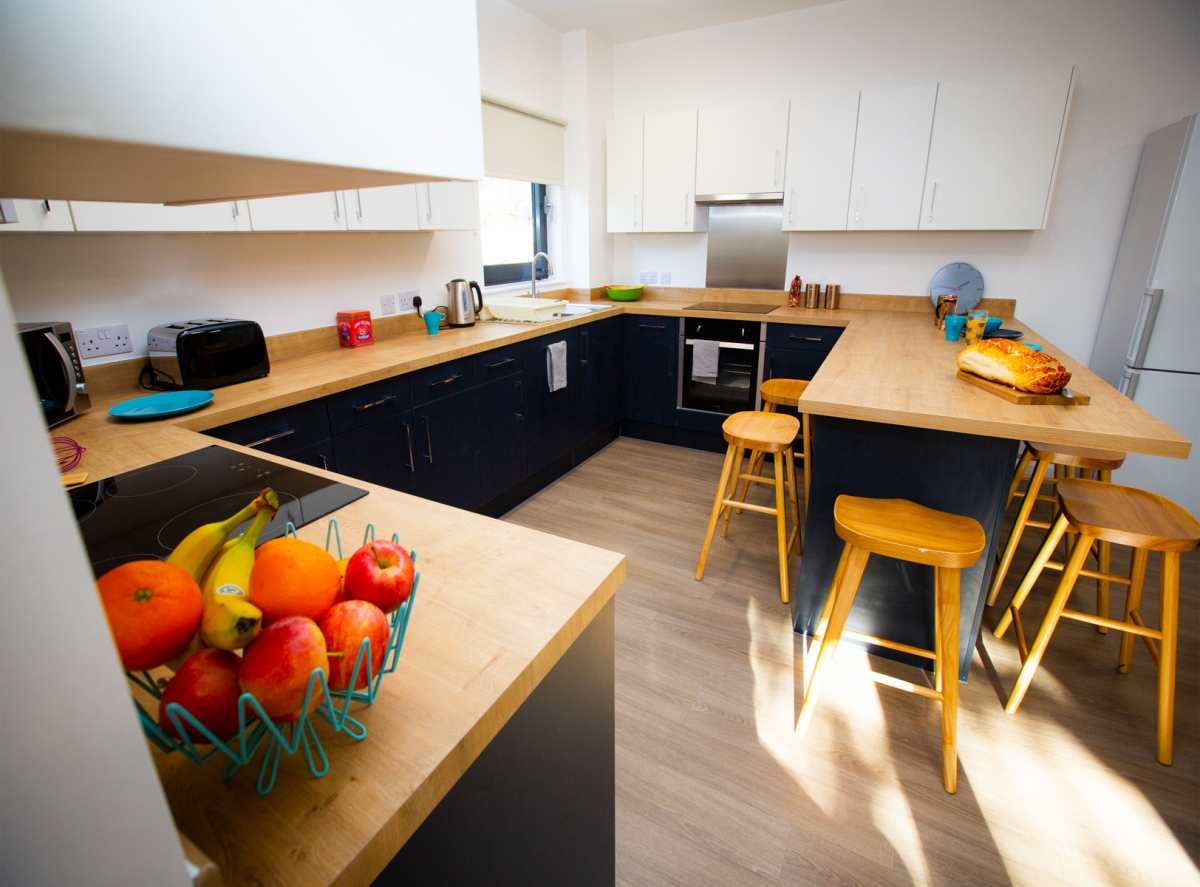 A few minutes walk from Penryn Campus, in peaceful surroundings, sits Packsaddle Hill – a new development providing contemporary and comfortable accommodation for 124 students. The 16 shared flats and 14 self contained studios range in size and come fully furnished.
Discover more about Falmouth University's accommodation options.